DUOTONE Foil wing Unit D/LAB
SURF / DOWNWIND / FREERIDE
Sizes: 3.5 / 4.0 / 4.5 / 5.0 / 5.5 / 6.0 / 6.5
The wing that needs no introduction, the Unit D/LAB is the pinnacle of wing design and the benchmark in performance.
The Duotone Laboratories' mission is to develop the absolute best products and break boundaries within wind sports. As a result, the Unit D/LAB features the most cutting-edge premium materials and construction technology with no expense spared in the pursuit of the ultimate ride.
Only after it has excelled all expectations and passed extensive rigorous testing does it achieve the prestigious D/LAB seal of approval.
For 2023 the Aluula leading edge and strut combine with the new MOD3 canopy and the result is mind blowing! The latest version of Aluula fabric offers unmatched weight, ride compliance and response, which results in a lighter wing with improved lift, drift, power and hang time. The instantaneous feedback from the Unit D/LAB allows you to fly earlier, jump higher and rotate quicker.
The MOD3 Canopy channels the energy from the Aluula material into pure acceleration and sheer grunt! The higher modulus MOD3 fabric holds the shape of the wing with double the strength in the warp direction and 3 times the stretch resistance in the bias direction over a traditional canopy.
Lower stretch significantly improves draft stability, power delivery and the pumping efficiency of the wing, which ultimately allows the use of smaller wings in lighter winds and the new Unit D/LAB sees an increased usable range. The new durable MOD3 remains crisp and fresh like its day one and in addition, significantly improves the tear resistance and canopy strength.
Similar to the design refinements seen in the Original Unit for 2023, designer Ken Winner has optimized the dihedral angle, as well as the tip and strut twist for enhanced drift stability when surfing or flying through basic manoeuvres.
The front handle has been reinforced for better stand-off and control when surfing with your wing flagged, while the window layout offers better visibility for improved safety allowing you to always see your surroundings.
Duotone's rigid handles have revolutionized wing design for their direct steering and power transfer allowing the rider quick adjustments through its grip range combined with pump-and-go simplicity while maintaining a lightweight minimal size that is easy to pack away at the end of a session.
The Unit D/LAB excels in the surf but loves powerful riding, jumps and tricks at all levels. It's your choice between Unit Original and D/LAB but just keep in mind, if you want the ultimate in performance then it has to be the Unit D/LAB!
Key features
FLIES ON THE LEASH - NEUTRAL AND EFFORTLESS ON THE WAVE - FLIES ON THE LEASH. THE UNIT D/LAB FOLLOWS INTUITIVE, LIGHT AND STABLE WHEN HELD ON THE FRONT HANDLE WHILE SURFING AND DURING DOWNWINDERS.
LIGHTEST WEIGHT - ALUULA FRAME FOR MINIMAL WEIGHT AND MAXIMUM PERFORMANCE. WITH ABOUT HALF THE WEIGHT OF STANDARD DACRON AND ABOUT 50% HIGHER STIFFNESS THE ALUULA LEADING EDGE AND STRUT MAKE THE UNIT D/LAB EXTREMELY PERFORMANT AND ABOUT 15% LIGHTER.
RIGID HANDLES - RIGID HANDLES FOR DIRECT CONTROL. OUR UNIQUE LIGHTWEIGHT SCREWED-ON HANDLE SOLUTION OFFERS BOOM-LIKE COMFORT AND CONTROL WITH DIRECT STEERING AND A GRIP RANGE OF 26CM PER HANDLE.
IMPROVED FRONT HANDLE - NEUTRAL AND EFFORTLESS WHILE SURFING ON THE FRONT HANDLE WITH IMPROVED DRIFT STABILITY.
OPTIMIZED WINDOW LAYOUT - IMPROVED WINDOW DESIGN FOR SAFETY AND COMFORT.
MORE GRUNT - IMPROVED POWER DELIVERY WITH MORE GRUNT.
Construction features
---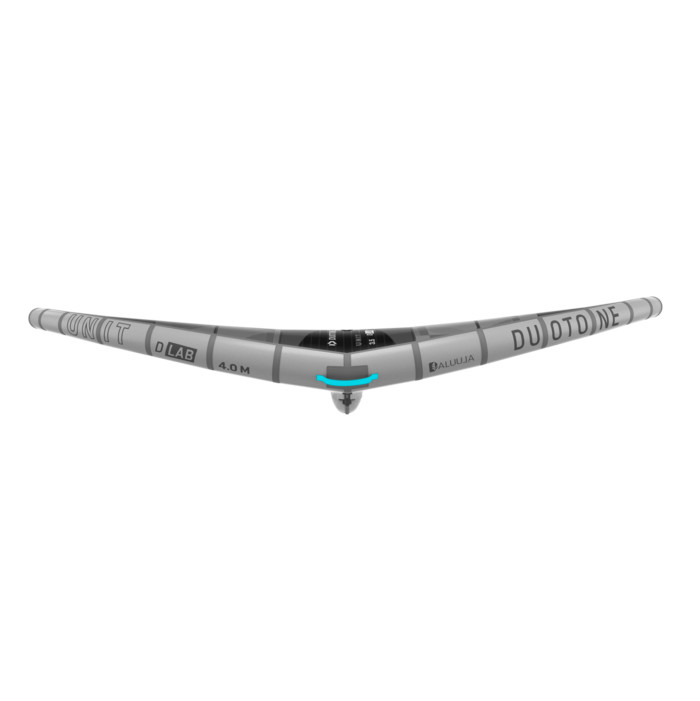 STIFF FRONT HANDLE
Neutral and effortless while surfing on the front handle with improved drift stability.
---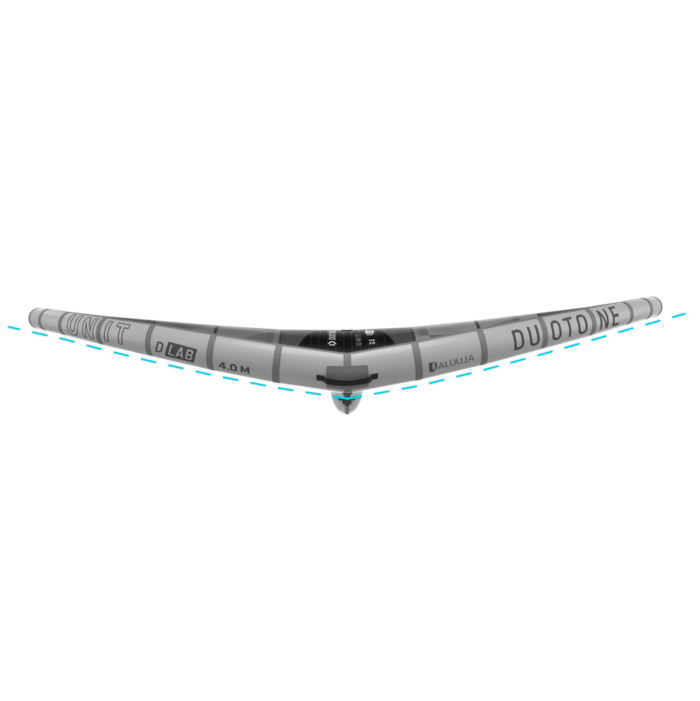 WING GEOMETRY
Tight canopy tension and finely tuned wingspan for powerful and direct power delivery, better drift stability, more lift and extra hang time.
---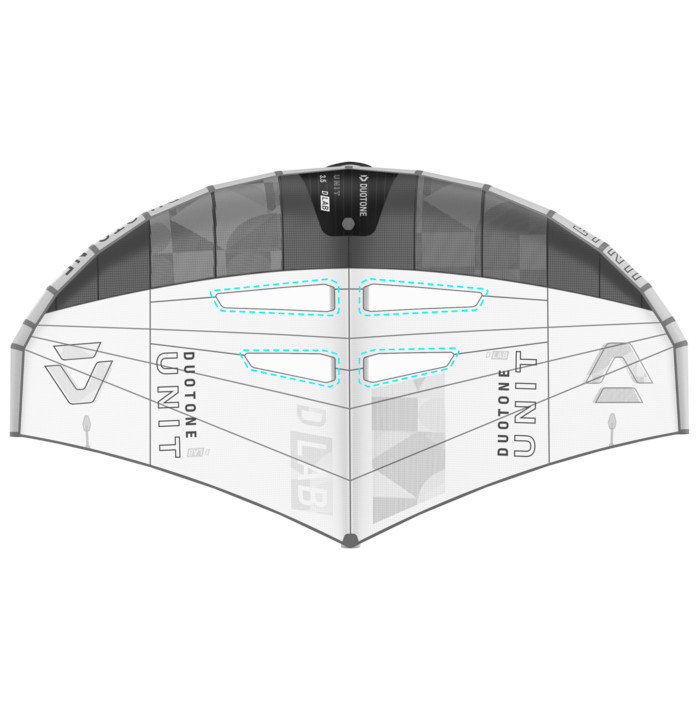 WINDOW
Optimized window layout for safety and comfort with a reduction in weight.
---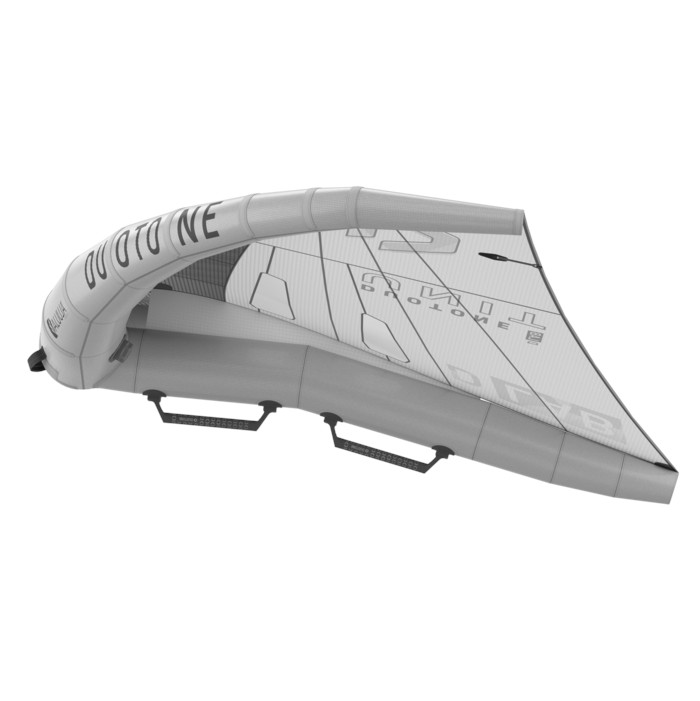 RIGID HANDLES
Unique lightweight stronger front handle design with better stand-off. The handles offers boom-like comfort and control with direct steering and a grip range of 26cm per handle.
---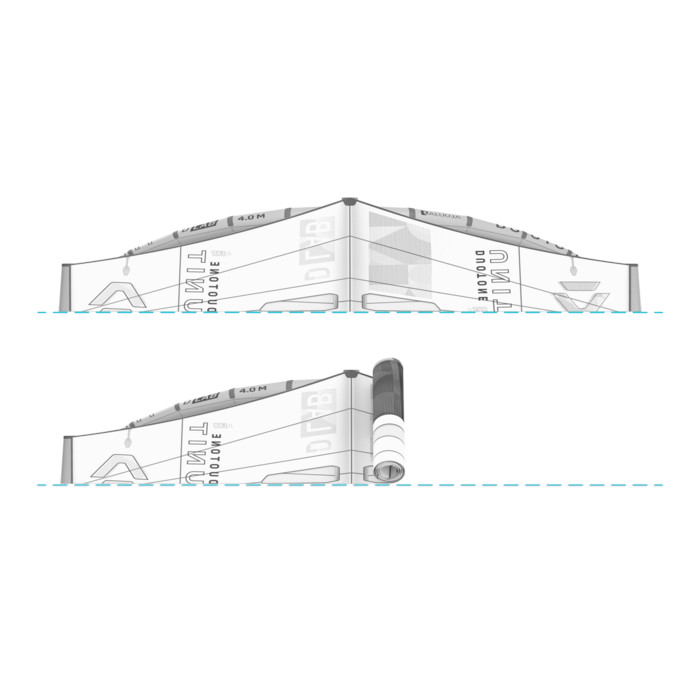 PACKING SIZE
The Unit D/LAB is easy and fast to set up and packs down small, which makes it the perfect travel companion. The backpack makes packing and carrying your Unit D/LAB as easy as it gets and stores your wing in style.
---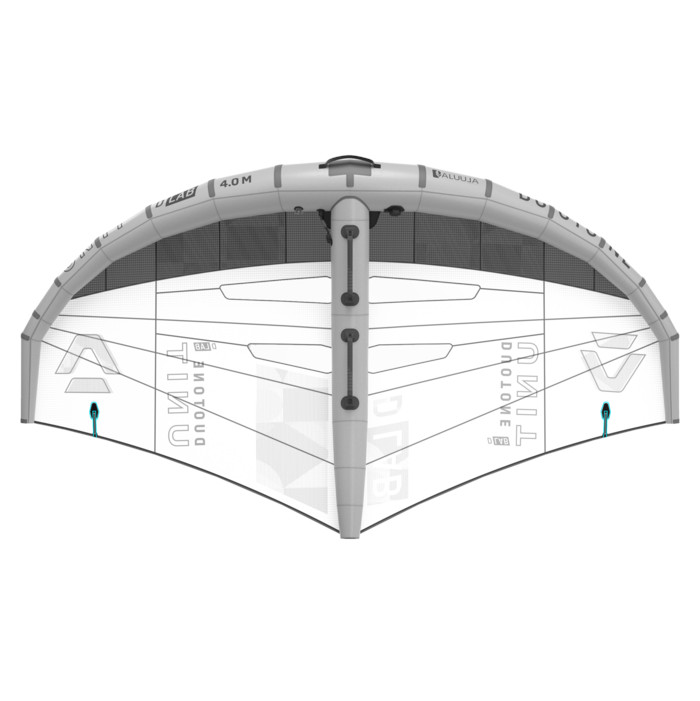 MINI BATTENS
One small batten per side reduces flutter and drag to a minimum and support upwind ability and top end performance.
---
MOD3
DUOTONE ENTERS A NEW ERA OF WING DESIGN WITH MOD 3 - A WING SPECIFIC CANOPY!
WHAT YOU FEEL
More power
More direct response
Better pumping efficiency > goes earlier
Better draft stability
Increased durability > no wearing out
Harder to break
MOD3 TECHNICAL INFO
Modulus of MOD3 is twice as high in warp direction
3x as stretch resistant in bias direction (7x less stretchy at lower loads)
Much higher shape holding ability compared to traditional (Kite) canopy (the canopy of Wings is exposed to about 2x the load per surface area compared to the canopy in Kites)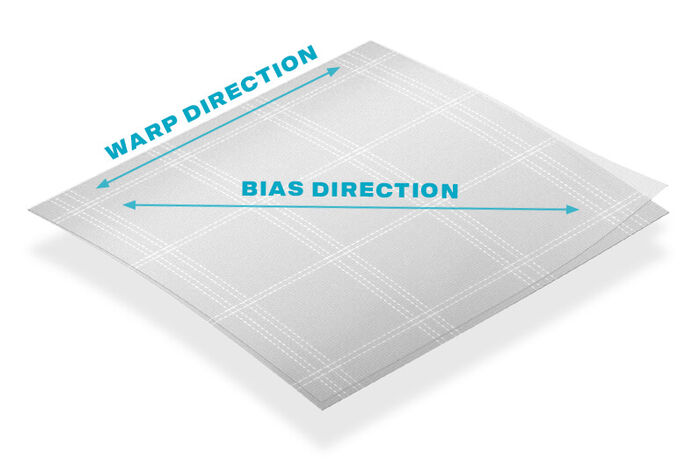 For instant answer - open the chat and ask your question. We're active 9.00-17.00 CET.
Is it afterhours? ​No problem - leave us a message and we'll respond early the next day.
​+48 513 020 570
For those who prefer phone calls - that's our number. You can give us a ring between 9.00-17.00 CET.