Tabou 2019 windsurfing boards collection novelties

Check out what this leading board manufacturer has prepared for 2019
Tabou is a company manufacturing windsurfing equipment since almost 30 years. Each new windsurfing board model is a result of 2 years of research and development done by experienced shaper - Fabien Vollenweider - together with a team of pro riders. These are countless innovations and creative refining of shapes and constructions. For instance, some of slalom boards features are transferred to wave designs. After all, there's one hydrodynamics! Moreover, some of the shapes scoop from the past designs that proved on water years ago. Company's slogan states: "Not just better, different". Tabou logo was refreshed lately, according to current trends. Older windsurfers would recall old logo, quite characteristic and controversial with a man on the board.
Easy-Surfshop.com is a major Tabou boards retailer, so you can expect entire 2019 collection available.
WAVE
Let's begin presentation of Tabou 2019 novelties with wave boards. DaBomb is a successful model introduced last year (you can read more about it here). For 2019 it has been merged with well-proven Pocket waveboard (in smaller sizes). Now it's a complete range of 4 new-school boards dedicated mostly for so-called "eurowave": side-on shore/ on-shore conditions with waves far from perfect. Flat rocker ensures early planing and high top speed while short uniquely shaped "diamond" tail with bottom channels enables tight turns on back foot. DaBomb boards can be used in a thruster setup or traditional US-Box single fin for bump&jump, higher top speeds and better control on choppy waters.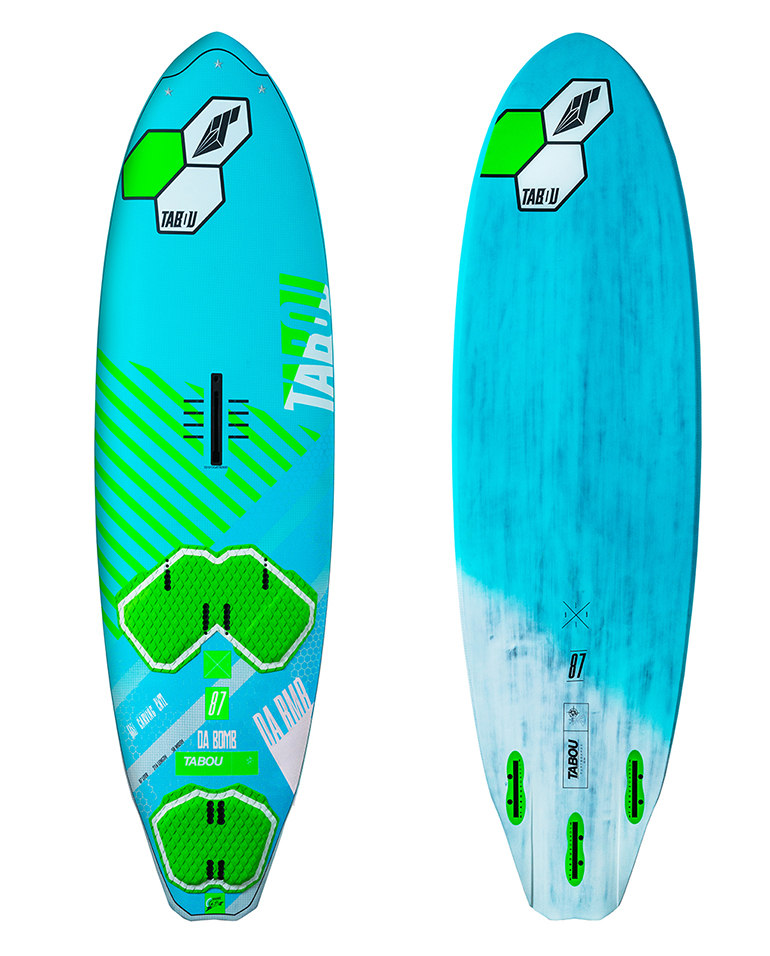 DaCurve is a radical waveboard for advanced riders. The tail was shortened for 2019 and the rails made thinner for tighter turns plus flatter rockerline application. So the board planes even faster, feels more loose in bottom turns while keeping the grip in top turns. The main change though for 2019 is giving up quad fin setup. All professional riders opted for a thruster anyway. The board gets rid of that little extra fin box weight.
Both wave boards have now 6 inserts for inside of the front strap so you can adjust stance traditionally or in a new-school way.
FREEWAVE/ALLROUND
Two windsurfing board models called 3S are a re-established concept of innovative shape introduced in early XXI century. Versatile design with a classic outline for those who want to have a all-in-one board: high wind freeride, bump&jump, oldschool freestyle and riding some small waves.
3S Classic is fairly long for today's standards, what makes it fast and balanced on chop. Traditional freewave outline is a nod to the past. The board planes early and jibes easily and smoothly. Modern tail construction improves manoeuvrability and Vmax. 3S Classic board is available in 3 sizes and 2 construction technologies. It features a classic single-fin box.
Tabou 3S+ is shorter than Classic version and has a thruster fin setup. It has more maneuverability, looser feel and more grip on waves. It's made in 4 sizes and also 2 construction technologies to choose form.
Both variants of 3S can be used with 3 or 4 footstraps.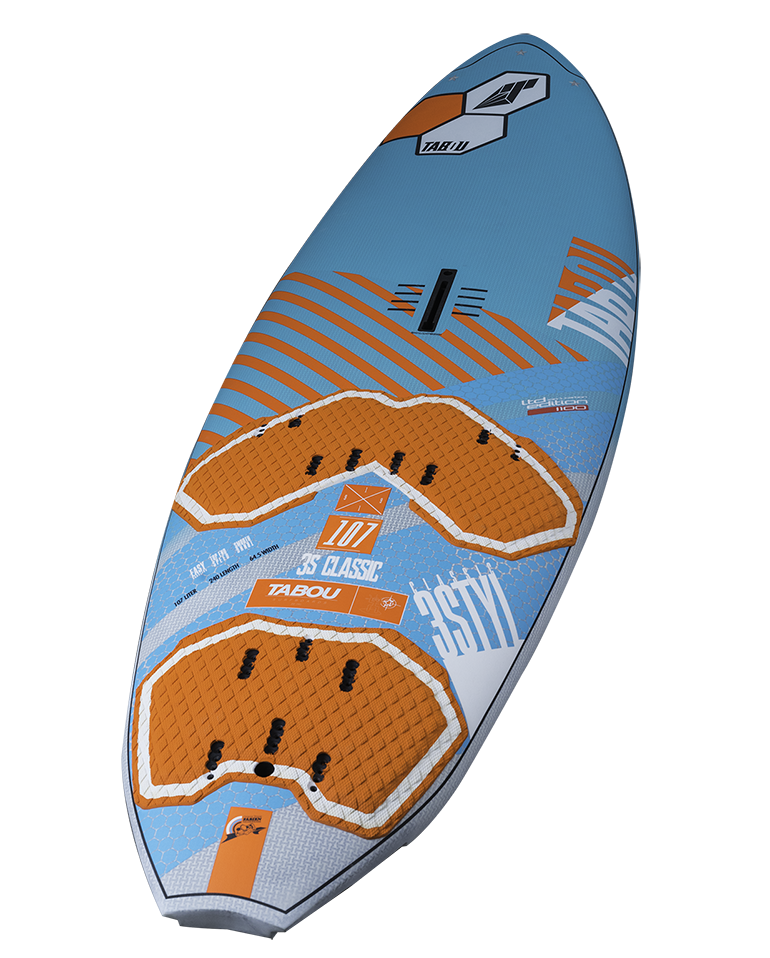 FREESTYLE
Twister is a new-school machine. Very short, spins quickly and easily. One of the most important factors for modern freestylers is fast acceleration and speed, so Fabien Vollenweider implemented a low-entry flat rocker near the tail. Winger outlines, width in mid-section combined with small tail creates little wave under the board which acts like a ramp while popping, even underpowered. Deep Vee on the bottom and boxy rails make spinning easier.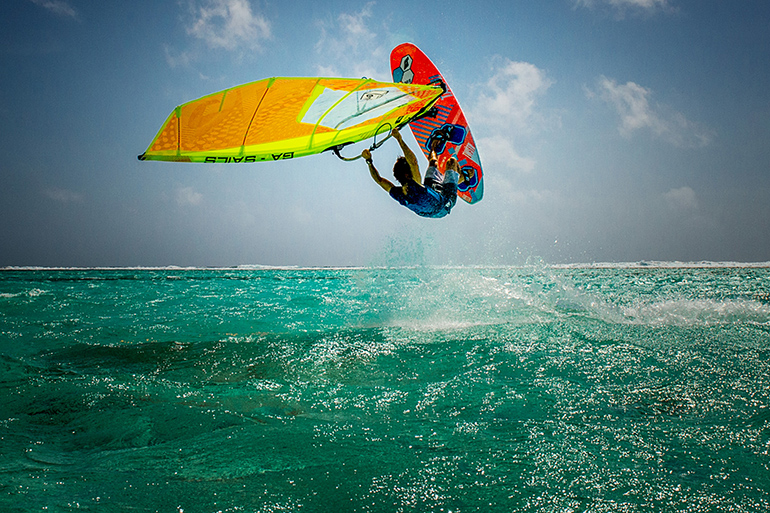 RACING
Manta is a well proven construction used by top World Cup athletes. This racing beast is also a board of choice for advanced amateurs who want to be the fastest on the spot. It's manufactured in as much as 8 different sizes! Two smallest of them are dedicated to Speed discipline while two biggest sizes have a reinforced, Foil ready fin box. Mantas are available in 2 different carbon compositions.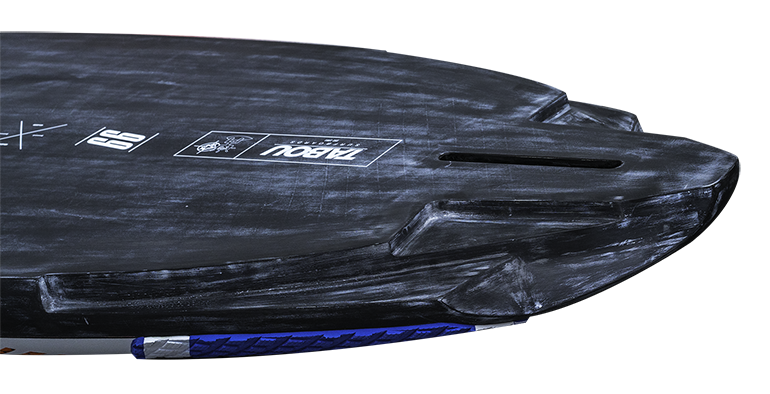 FREERIDE/FREERACE
Let's move on to the most popular windsurfing discipline - Freeride. Since many years, Tabou flagship model is the Rocket - easy yet fast, classic and beloved by many freeride machine available in 6 sizes and 2 technologies. Moreover 3 biggest sizes are manufactured in very robust (but heavier) AST versions. These are ding-resistant and low-priced boards.
Completely new in 2019 collection is a freerace orientated Rocket+. It combines features of pro-racing Manta with freeride ease of classic Rocket, top speed under comfortable control. These series, in bigger sizes, has a Foil ready, reinforced fin box.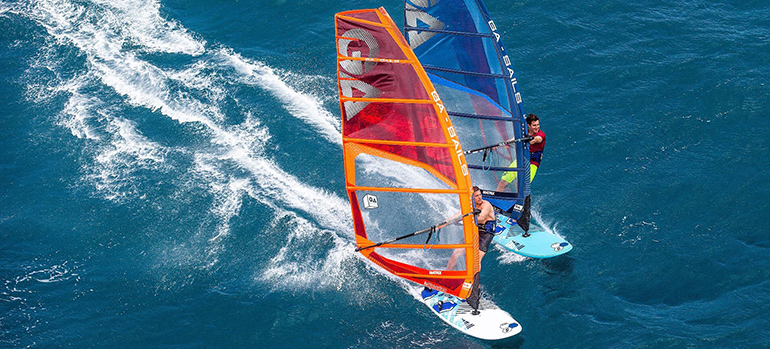 Bullit is an entry level freeride board in robust AST technology. It's very easy to handle, stable, and long-lasting. Suitable for first planning glides, perfect for windsurfing schools. Available in 6 different sizes, priced very affordably.
FOIL
Tabou has also a specialized Foil dedicated construction. It's called Airride and will be available in 2 sizes soon. 91 cm wide Airride+ is a PWA approved competition foiling shape. It has parallel outline and super wide tail for maximum lift and stability plus hull shaped for smooth touchdowns. 81 cm Airride will be suitable for sails 6-8.5m2 and will have multiple foot strap inserts positions to match different levels of riders' foiling experience. The boards were tested with many different Foils available on the market.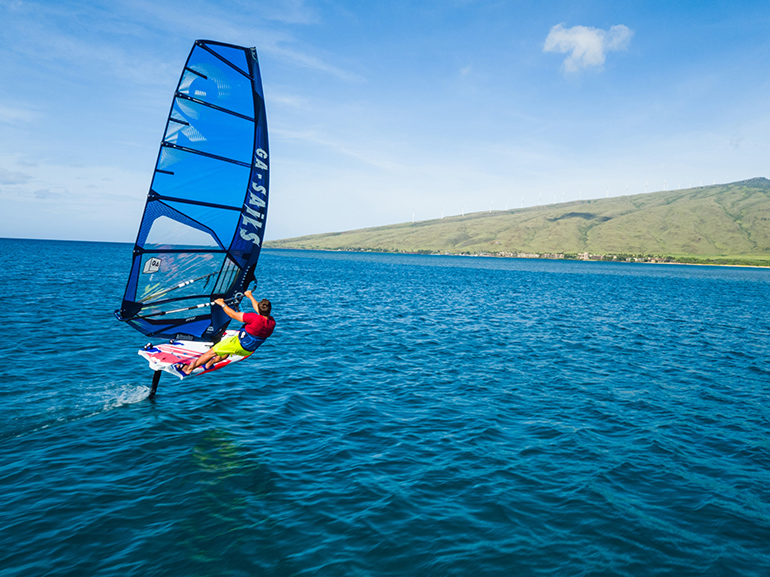 And last, but not least let's don't forget about windsurfing for beginners! Coolrider is a well proven by hundreds of windsurfing schools entry-level board. Covered all in soft EVA, stable, buoyant and maneuverable. You can read more about Coolrider here.
Well, let's be honest. Not everyone desires (or can afford) newest collection windsurfing board. You should also check out our offer for previous Tabou models on sale. The discounts are up to 58%!