TABOU Windsurf Board DA BOMB
Sizes: 77 / 84 / 94 / 104
Model: 2019
Discipline: Wave
NEW SCHOOL WAVE RIDER
Make sure you catch every wave with fastest wave board and cut radical turns into even the smallest wave face.
---
FOR WHO: Wave riders with that extra need for speed to catch each wave they spot, but don't want to miss tight turns and vertical hits.
The 2019 Da Bomb was complemented with 2018's Pocket 77 to create a wider and more versatile range of wave boards. With the Da Bomb, Tabou managed to achieve great planing and top speed without sacrificing fast and easy turns. Never miss out on any wave anymore, because the Da Bomb's straight rocker will get you going quickly and on every wave, you wish to be on.
A short tail and channels on the bottom allow the board to turn fast, controlled and tight, when you apply pressure to the back foot. With a center US-Box in the Da Bomb 84, 94 and 104, it can be used either with a thruster setup or a big single fin to get planing early and ride through chop with ease. The compact outline will make moves like Takas and Shakas easy and accessible to those, who are just starting to make the extra spin at the lip. This board combines speed and control, making it the best jumping board in the Tabou range, but that is not its only strength.
---
KEY FEATURES
6 hole front inside insert allowing classic and new school stances
Mini-channels on the bottom for extra control in turns
Short tail for easy and fast turns
Thruster setup with center US-Box for the option of single fin use (84, 94, 104)
Straight rocker enables quick planing and good top speed
Compact outline makes new-school moves accessible for everybody
---
CONSTRUCTION - WAVE FLEXLIGHT CARBON / INNEGRA SANDWICH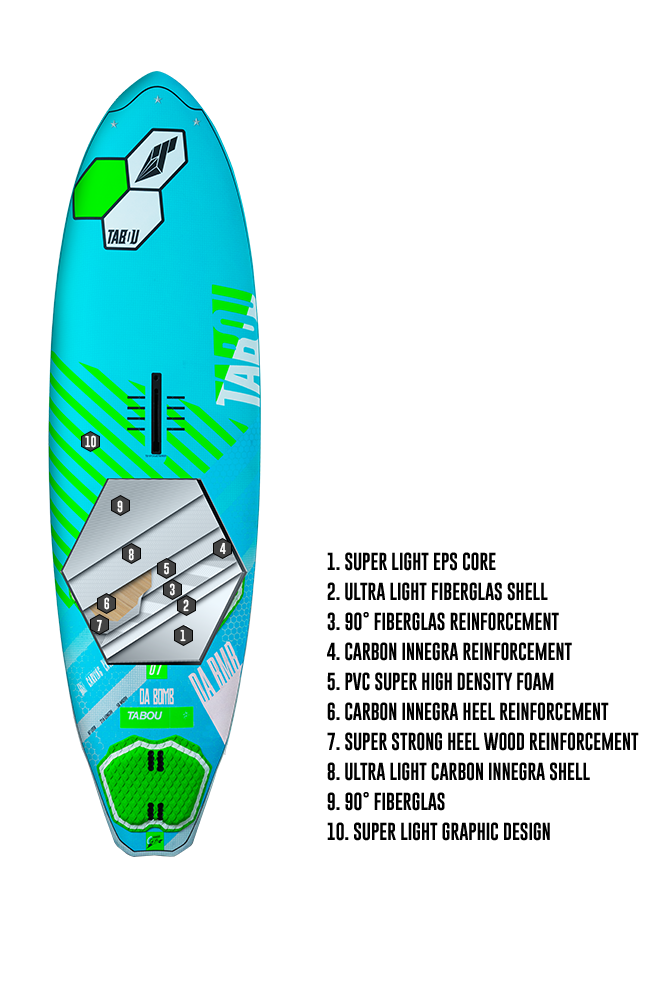 For instant answer - open the chat and ask your question. We're active 9.00-17.00 CET.
Is it afterhours? ​No problem - leave us a message and we'll respond early the next day.
​+48 513 020 570
For those who prefer phone calls - that's our number. You can give us a ring between 9.00-17.00 CET.