BLADE FR - FORMULA RACING MACHINE
Sizes: 10.0 / 11.0 / 12.0
Redesigned for 2018, the Blade FR has evolved to even greater efficiency and speed for dedicated upwind and downwind formula courses. The Loftsails FR has a long and proven history in Formula racing – Dennis Littel's incredible 10 successive titles, and Fernando Martinez 6-time Spanish national champion.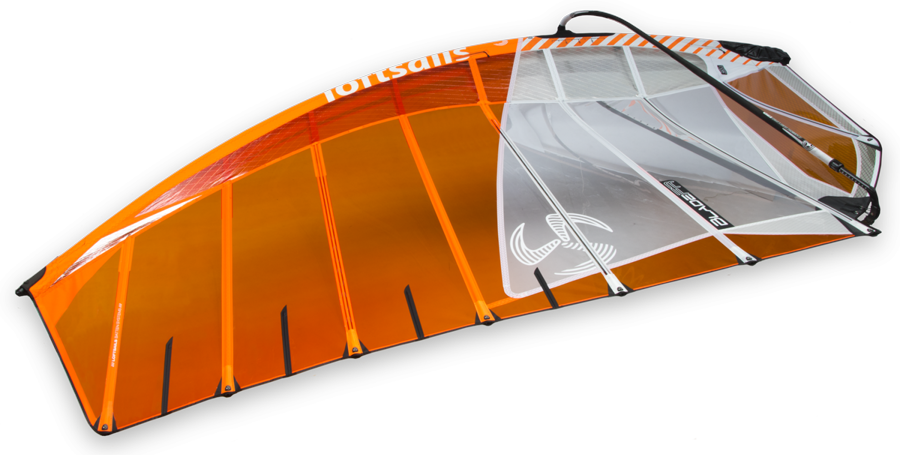 FEATURES & BENEFITS
Internal vertical and horizontal Kevlar strip applications at cams – Maintain stability and define shape profiles.
Blade mast-pocket construction features mast panel and IYU 250 mast-pocket sides (3 layers) tensioned directly all 3 layers under tack pulley webbings, therefore downhaul tension is equalized between the mast panel and the mast pocket, resulting in the Blade FR´s firm, clean, easy-rotating leading edge.
Blade mast-pocket construction - Equalized loading between the mast panel (interior) and the pocket (exterior) The result is tensioned, firm mast pockets, exceptional durability, rotation ease
4-mm. Dimension Polyant monofilm body panels - proven superior performance
Tubed battens with varying carbon content according to performance. The top 3 are specialized 100% carbon tubes Carbon tubes deliver superior stiffness to maximize stability in your upper end
Slick Tekcam2 rotation. (Tekcam2 Large for SDM also supplied) Easy cam rotation makes your windsurfing experience more enjoyable.
Metallic cam interfaces - MCIs eliminate contact point degradation characteristic of cam designs without MCIs
Centered battens in X-Ply sleeves. (Alternate pocket sides) Using similar material for the batten pocket as the body material minimizes asymmetric character of Dacron batten pocket construction that, due to Dacron stretch, allows the batten to stay on the sail side. Pockets made of laminate pockets force the batten to stay centred. This is important to keep the sail symmetrical. If all batten pockets are Dacron and mounted on the same side of the sail the sail will be biased to one tack and rotate unevenly. Loftsails X-Ply batten pockets that alternate sides limit asymmetric character.
Streamlined neoprene boom cutout with dual zippers - limits water entry into the mast sleeve during falls, keeping the rig light for a fast recovery
7-mm. monofilm vertical internal panel (inside mast-pocket) - For profile stability
BREATHING, TRIM-REACTIVE DESIGNS
Wind vision is performance greater than the sum of the parts the board, the rider and the rig become life-like windsurfing at its best! Loftsails designs are alive, breathing, living, with performance available from the rig in all conditions. Forward sail profile orientation, high skin tension and a soft-twisting, exhausting leech work together to produce life-like rigs that expand performance and wind range.
Living, breathing designs are characterized by trim reactivity:
Soft trim raises the power centre; powering-up the rig in light winds.
?Hard trim lowers the power centre; streamlining the rig for strong winds.
METALLIC CAM INTERFACES (MCIS)
With each sail rotation, cam designs without MCIs will experience cam-to-sail contact point degradation.
Loftsails exclusive MCIs work with our Teckam system to eliminate such deterioration to maintain a clean, efficient leading edge. To soften rotation, MCI removal is an easy option.
TEKCAM2
Simple, functional, light, adjustable, durable The Loftsails Reduced and Large Tekcam2s allow both Sdm & Rdm mast compatibility for Racing Blades.
No other brand has it. Our Tekcam2 system expands performance possibilities by allowing riders to choose the mast of their choice sdms are well suited to larger sail sizes, larger riders and flat water, while rdms are well suited to smaller riders, smaller sizes and rough conditions.
Tekcam2s are new, designed with a larger footprint on the mast, longer rollers and larger contact areas above and below the rollers.

IPC - HARDCORE DURABILITY
IPC - Loftsails simple, effective, exclusive construction technique. At the sail corners, panels are overlapped creating radial extensions into the sail body.
The head and tack corners on all Loftsails designs share this feature. The Pure Lip clew is also included IPC- the seams that extend into the sail body from under the clew allow the "boomzone" panels to extend under the clew eyelet. This creates an integrated two-ply that radiates into the sail body.
LOFTSAILS QUALITY
Materials
All materials are 1st quality: Loftsails engineers their sails with specialized mast pocket styles, state-of-the-art triaxial and bi-axial laminates, woven polyesters in varying weights and finishings.
Construction
Loftsails are produced with progressive construction techniques: multiple scrim- adhesive reinforcements, 5-layer glued seams, extruded PVC edge and batten wear guards, molded batten end wear studs details that produce state-of-the-art sails.
Hardware
Loftsails hardware is also exclusive: multi-sectioned batten systems (rods and tubes) with location-specific carbon content, precision-ground profile tapers, stainless 3 and 4 roller pulleys and multiple clew eyelets, individual batten tensioning systems top quality components.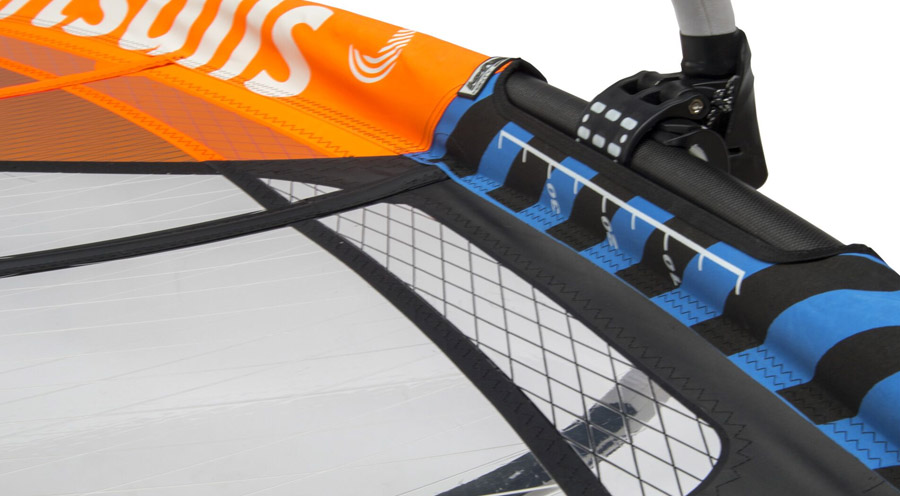 EQUALIZED
Loftsails 2018 batten tensioners- dual side-loops that centre & equalize batten tensioner load to the batten/batten pocket/sail body.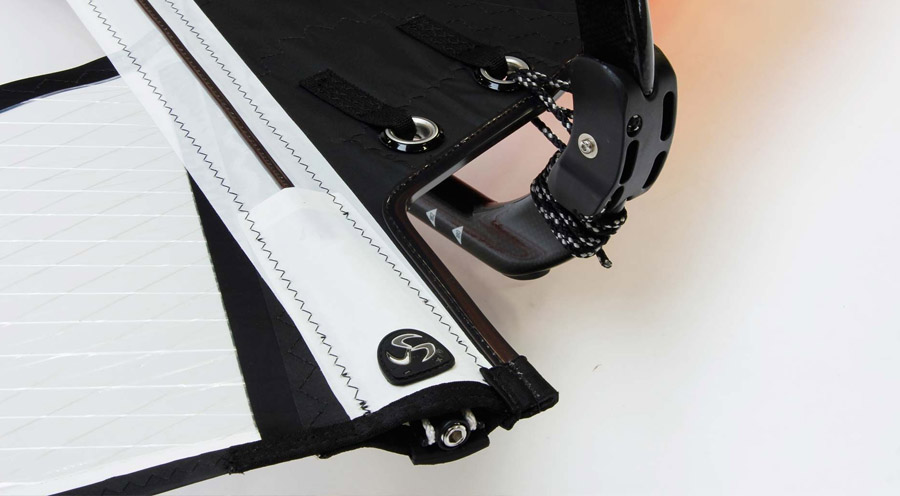 EXCLUSIVE BATTEN SYSTEMS - FEEL THE DIFFERENCE
Loftsails builds each Loftsail with specific batten sections and batten tapers to create an optimized internal structure for all our sails.
All Loftsails Blade designs (Racing Blade, Switchblade, Blade FR, Blade RB) include alternate side batten pocket locations on battens that include Tekcam2s. This building technique minimizes the tendency for the sail to prefer one tack over the other. The result is equalized body profiles from one tack to the other, and ease of sail rotation. Part of this technique is the xply batten pockets with 3 strips of scrim applied. Batten pockets that match the sail body regarding stretch character assists in keeping the batten tension centred.
Loftsails are performance-enhanced in the upper end with our advanced, exclusive battens systems you can feel the difference!
MOLDED PVC PROTECTORS
Thermo-foam mast/board pad with uphaul port, batten-tensioner key keeper, line pouch and roll-up strap.
Soft PVC foot edge, lower batten pocket & foot 2ply seam protectors.
Soft PVC batten pocket/boom protector applied to batten pocket crossing the boom on Oxygen, Switchblade, Racing Blade, and Blade FR designs.
Molded PVC protectors sewn onto the mast pocket top prevents wear to critical parts while being aerodynamically optimized.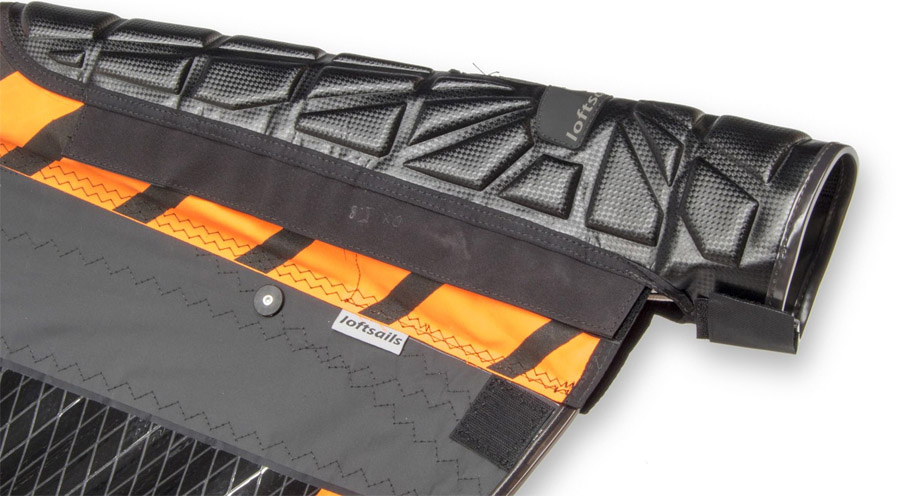 For instant answer - open the chat and ask your question. We're active 9.00-17.00 CET.
Is it afterhours? ​No problem - leave us a message and we'll respond early the next day.
​+48 513 020 570
For those who prefer phone calls - that's our number. You can give us a ring between 9.00-17.00 CET.