JP-Australia Windsurf board FreeFoil ES 2023
FUN FOIL ALL-ROUNDER FOR ALL
Sizes: 115 / 130
Discipline: Freeride Foiling
The perfect foil all-rounder with little to no limitations in its foiling range of use. Fun is what the board delivers, so the target group is the whole windsurf foil community: Everybody will be able to enjoy foiling as easily as possible – in every aspect of this new discipline. Slightly longer than comparable designs on the market, they offer more ease and accessibility. With an elongated pad and special footstrap plugs further forward, the fun extends to wing foiling, too!
The boards to enjoy all sorts of foiling fun – easy!
The FreeFoils are amazing all-rounders: Incredibly easy for beginners to just jump-on and get their first flights. Especially the bigger size with more volume will meet the needs of all foil novices. The boards are stable for easy uphauling, and at the same time compact enough for more advanced riders to use this board for whatever style suits them the best.
With sufficient volume and plenty of float, these boards get you up and flying in the lightest breeze.
Once airborne, the reduced swing weights offer a very stable ride without limitations, no matter whether you want to blast along, ride waves, be active in the freestyle-foil madness or join the latest trend – wing foiling. Ease, manoeuvrability, and control for everybody!
Details:
Foil Mount & positions: - The strong construction is built to last and can take all the forces that foils put on a board.
The plate mount and Tuttle box fitting cover all needs and rider preferences. Being able to adjust not only the mast track, but the Foil as well, allows the rider to tune this board exactly to their own specific foiling style – and the scale helps you to find the right position for the foil, every time.
Strap positions: - The centre foot strap option with the huge adjustment range is an essential key feature and the base for control over both rails. This grants a safe feel and quick progress for newcomers to foiling as they will stay balanced easily and prevents entry level riders from losing stability in the air. For experienced sailors the centred straps mean absolute freedom to get creative: The toy of joy offers everything for the advanced rider who wants to push his limits and take his freestyle know-how into the new world of foiling.
The manoeuvre-oriented rider will enjoy flying down smooth swell faces, or even taking it into the waves for some long, effortless flights.
The FreeFoils also come with the common outboard 4 strap setup for regular foiling. They track extremely well up and down wind and allow for a fast and efficient flight mode – ideal for all freeriders who want to use powerful foils and to sail fast.
Shape: - The board is slightly longer than comparable boards from other brands because tests showed that with this added length, you gain noticeably more control, ease of use and effortless take-off while you only lose a tiny bit of liveliness. This is a clear advantage not only for novices but also for the average and advanced rider who will benefit from the added comfort and ease of use. Everybody who prefers or needs to ride bigger sails will specially like the more balanced feel of the longer hull.
The comfortable deck shape is also very user friendly for the strapless riders out there. It offers the most responsive feel, while at the same time being as forgiving as can be.
Being narrow enough, they allow for easy foot movement during gybes as well as transitions from rail to rail.
The voluminous rails in combination with a small bevel provide lift on occasional touch-downs for a smooth and a forgiving glide.
Trim - The insert options allow you to trim the mast base and foil closer together and quite far forward. This opens a totally new window for the advanced rider as the board gets livelier and more direct for immediate response. So, this option is especially interesting for the freestyle and wave community.
Wing Foil - For Wing Foiling, strap-less or with straps, mount the plate/wing of the foil all the way forward in the track boxes. The boards feature an elongated pad to the area where you stand when winging and for those who like to use straps, there are additional wing footstrap plugs.
Ideal for all types of freeride foiling. Whether it be just cruising along, riding strapless, riding with foot straps, wave foiling, wing surfing, teaching people how to foil behind a boat, or even freestyle, this board can do it all, and does it all REALLY WELL!
Suitable for all conditions and levels.
Key features
JP's foil all-rounder that covers the widest possible range of foiling
Balance between easy handling, pace and control when foiling
Deck shape provides the most responsive feel while still being forgiving and user-friendly
Suitable for wing-foiling (straps further forward and long pad)
Multiple footstrap positions from manoeuvres to freeriding, from beginner to advanced
Foil-Tuttlebox & 2 long track US boxes
Features
---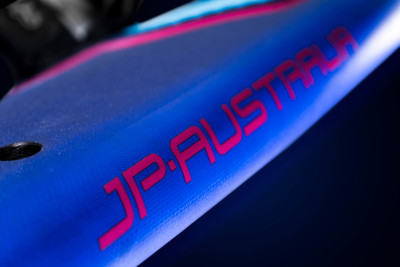 PARABOLIC RAIL REINFORCEMENT
For high durability: The parabolic rail reinforcements work like a stringer along the rail and are resistant to impact and paint chipping and increase the stiffness.
---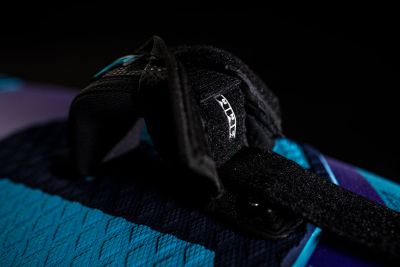 FOOTSTRAP SCALE
Your friends and family constantly take your board and change the size of your footstraps? No problem anymore! JP's Footstrap scale allows easy adjustment to the foot size.
---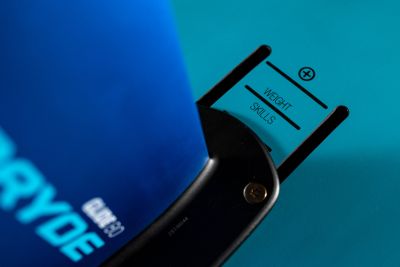 FOIL POSITIONS + WING OPTION
The strong construction is built to last and can take all the forces. The plate mount and the Tuttlebox fitting cover all needs and rider preferences. Being able to adjust not only the mast track, but the Foil as well, allows the rider to tune this board exactly to their own specific foiling style – and the scale helps you to locate the right position of the foil.
---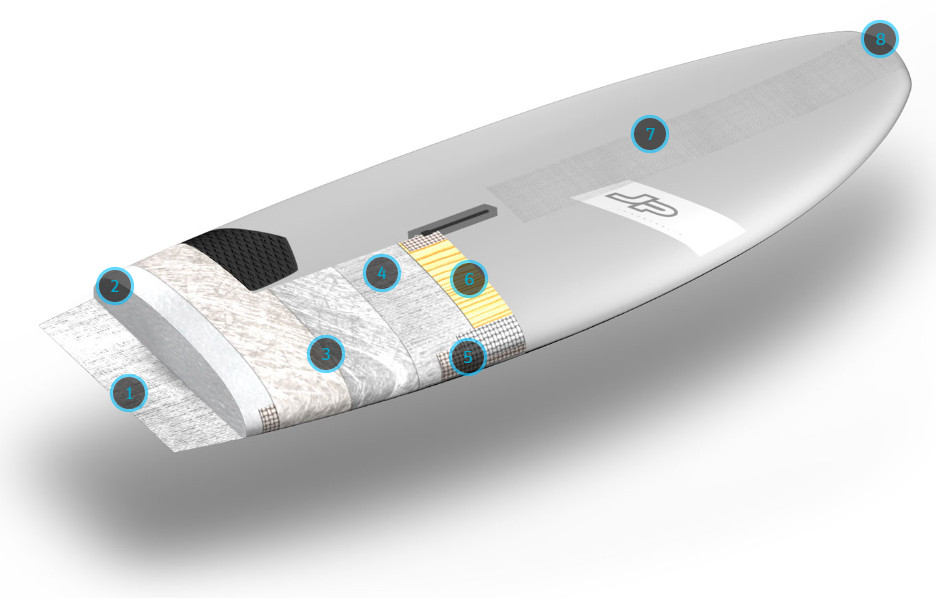 Technology
JP's low priced technology comes with large areas of reinforcements in the deck made out of sustainable, fast-growing Paulownia wood (6),
integrated Biax nose reinforcement (8), epoxy glass micro sandwich (1,4) in deck and bottom, rail reinforcements (5) and deck stringer (7).
For instant answer - open the chat and ask your question. We're active 9.00-17.00 CET.
Is it afterhours? ​No problem - leave us a message and we'll respond early the next day.
​+48 513 020 570
For those who prefer phone calls - that's our number. You can give us a ring between 9.00-17.00 CET.