ION Fuse is incredibly comfortable and warm drysuit. One of the warmest on the market. Comes 4/3mm thick neoprene. Designed to enjoy your favourite water sports during winter season with temperatures close or even below 0˚C. It is perfect for kitesurfing, windsurfing and SUP. You can use it up to -6˚C. Features high quality latex cuffs on neck, ankles and wrists, which makes it more waterproof, tight and provides snug fit. Also they prevent the water from getting inside the drysuit. Comes with detachable hood, extremely loud storm whistle and reflective prints to increase safety and visibility on the water.
You can put on the Fuse drysuit very fast and easily, it gives you full freedom of movement and maximum comfort. Features key pocket, chest pocket and drain holes to quick water release when needed. Additional velcro straps on ankles and wrists allow you to fit the drysuit specifically to your needs. Great and very useful feature of the Fuse is crotch zipper which makes long sessions on the water much easier and enjoyable. You can simply open it and do your thing without the need of taking the entire drysuit off. On the left wrist of the drysuit you have the hero-meter, it shows the surrounding temperature and your hero level. It's fun additional gadget. Additionally seamed zipper prevent water from leaking and high quality tooth gives smooth, low-friction closing. It keeps the water out more effectively and make it more flexible. Knee panels and buttock area have been reinforced with supra-tex, material which is strong against tearing and is highly abrasion resistant.
Features
Drysuit ION Fuse 4/3mm
Perfect for watersports during winter season (wind, kite,sup)
Extremely waterproof and tight
Key pocket
Comes with glued, blindstitched seams make it more waterproof and flexible
Drain holes to release water quickly when needed
Reflective prints on hood/shoulder area
Detachable hood
High quality, snug fit and flexible latex cuffs on wrists, ankles and neck
Provides safety with bright, eye catching colours, reflective prints and loud whistle
Wrists and ankles feature additional velcro strap for snug fit
Technologies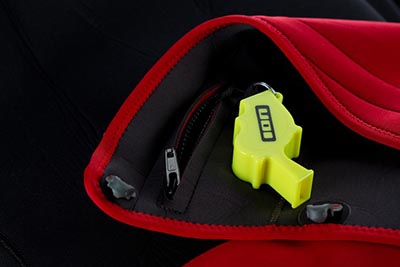 STORM WHISTLE
Drysuit Fuse features Storm Whistle, for safety in case of an emergency. It is extremely loud, up to two times louder than regular mouth-blown whistles. This kind of whistle is used by police, special forces and military. It can create frequency sound up to 3150 hertz. The best feature of this whistle is that it work under water due to harmonic chamber.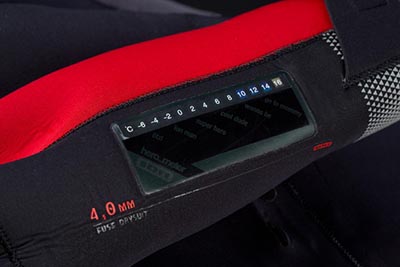 HERO METER
Cool additional gadget and feature of the Fuse is hero meter. It is placed on the left wrist of the drysuit. Indicates the surrounding temperature and the equivalent hero-level. Great additional fun gadget with scale.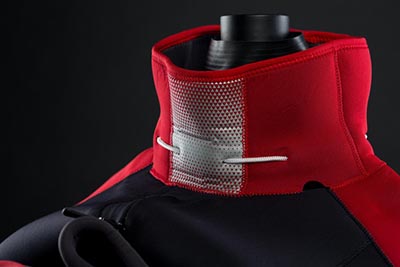 RE FLECTIVE
Additional reflective prints on shoulder/hood area provide safety while being on the water in cold winter time, as it can be dangerous because it's getting dark much earlier. Visual safety feature for FUSE drysuit -being out on the water in cold winter time can be seriously dangerous especially because it is getting dark much earlier. In case of an emergency you now can rely on additional reflective prints.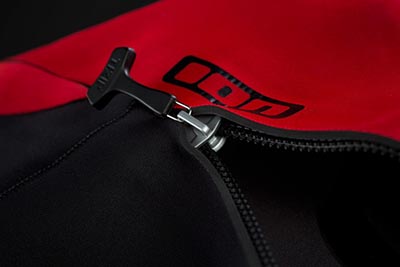 DRY ZIP
Premium brand TIZIP Master_Seal® zipper prevents water from leaking in and makes the ENVEE drysuit highly waterproof for above-water sports like kiting, windsurfing, surfing, SUPing, etc. This VISLON quality tooth construction provides a smooth low-friction closing/opening and keeps out the water effectively. It is also much more flexible and needs less lubrication than other zipper types.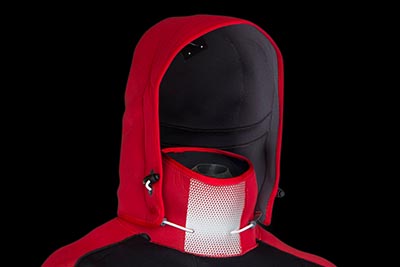 DETACHABLE HOOD
This year's updated construction features a metal free attachment of the hood. All for an extended lifespan of your Fuse.
LATEX CUFFS
Only super flexible SEAMTITE® Latex_Cuffs by the premium brand SPECIALISEDLATEX are used for the FUSE drysuit on the wrists and ankles to prevent water leaking into the drysuit. The neck cuff is made of super soft and stretchy Neoprene with Glide_Skin inside to improve warmth, wearing comfort and avoid choking.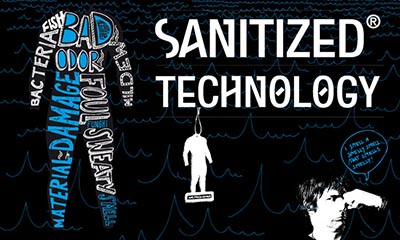 SANITIZED
Sanitized® is a certified antibacterial fabric with active biocidal substance: zinc pyrithion treatment to prevent bad odor from bacteria, mildew etc. in moist or sweaty environments.
For instant answer - open the chat and ask your question. We're active 9.00-17.00 CET.
Is it afterhours? ​No problem - leave us a message and we'll respond early the next day.
​+48 513 020 570
For those who prefer phone calls - that's our number. You can give us a ring between 9.00-17.00 CET.