JP-Australia Windsurf board Young Gun Freestyle LXT 2023
Sizes: 65
Discipline: Kids Freestyle / Performance freeride
The future starts here. Ambitious kids need the perfect equipment to improve their windsurf skills and to really love the sport. This new shape inspires kids to explore all aspects of windsurfing – maneuver oriented freeriding and especially freestyle. Finally, a compact, low volume design that doesn't hold back the advanced kid but allows him and her to go wild on the water. The perfect toy for planing, gybing and speeding in control... and obviously first freestyle moves.
Designed and built for anyone up to max. ~50 kilos.
Light weight kids use small rigs (actually they don't have the physical power to hold on to anything big). But too often they struggle with big boards which are too bulky for their sailing level. Once kids feel comfortable in higher winds and know how to get planing and to use the harness, they also need a small board – just like this 65 L board. The also need boards with compact dimensions and adjusted trim which match their small sails. Consequently, the Young Gun Freestyle's mast box is further back and thus closer to the foot straps for a responsive performance on the water. It also features a reduced stance width between front and rear foot as well as a shorter distance between footstrap plugs for small, narrow feet. It comes with long footstrap plugs for a wider trim range to adjust the stance width to different rider sizes.
Kids grow quickly but that board can stay with them for a while since the trim can be adjusted in a big range. The shape is based on JP's pro model Freestyle board and as such can be used from the improving kid for more freestyle action. It features all the latest shape details, only adjusted in a very compact package and offers stability, early planing and explosive pop, just like the big siblings in JP's range.
Young Gun Freestyle is a high wind shape for advanced kids. It is shorter and its inserts are tuned to the Youngster's needs and therefore is better than the world's best low volume wave board for adults. It will be fun, and inspiring for the ambitious offspring!
Key features
Highwind all-rounder adapted to children's needs
Freeride speed and control
Maneuver board for the advanced light weight
Full-on freestyle board
Tuned for light and short riders and their super small sails
Progresses with the YoungGun
Features
---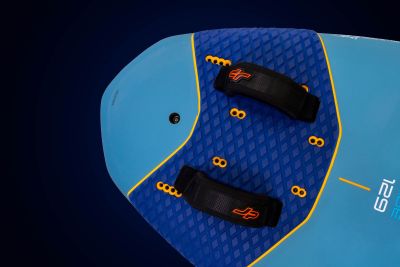 MULTIPLE FOOTSTRAP POSITIONS
Thanks to various footstrap options you can perfectly trim the board according to your needs, e.g.: inboard plugs for easy cruising and/or plugs further out on the rail for a sportier, free ride and/or centred plugs for beginners.
---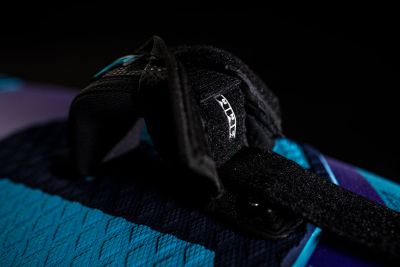 FOOTSTRAP SCALE
Your friends and family constantly take your board and change the size of your footstraps? No problem anymore! JP's Footstrap scale allows easy adjustment to the foot size.
---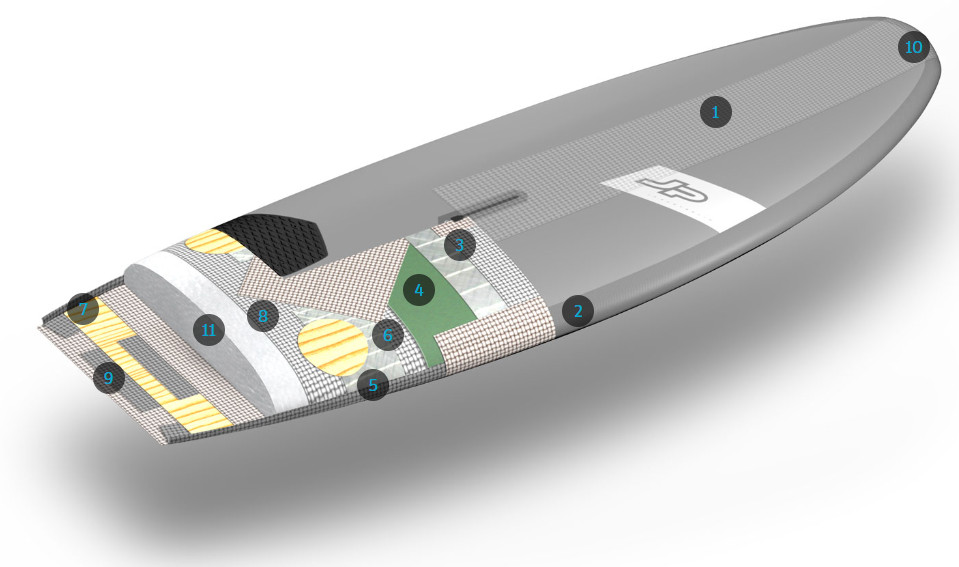 Technology
This technology features a blend between lightness and durability as well as the use of sustainable materials like the fast-growing Paulownia wood (7) for reinforcements in the bottom and a high-density PVC sandwich layer (4) reinforcement in the deck.
Technology details are the integrated Innegra nose reinforcement (1), bottom stringers (9), the Parabolic Rail band (2) and a Quadraxial fibre construction (3) in the full standing area.
LXTs come with the reinforced JP Foilbox and the windsurf boards (not foil boards) with a G-10 fin !
The deck of the Young Gun Freestyle features Paulownia wood instead of the PVC sandwich.
For instant answer - open the chat and ask your question. We're active 9.00-17.00 CET.
Is it afterhours? ​No problem - leave us a message and we'll respond early the next day.
​+48 513 020 570
For those who prefer phone calls - that's our number. You can give us a ring between 9.00-17.00 CET.