Best inflatable SUP boards

Inflatable SUP boards have one principal advantage over hard boards - it is ease of transportation and storage. That's why their popularity exploded all around the world lately.
Thanks to that radically increasing demand, a lot of new brands popped out willing to get a share of the market. That kind of companies - "no names" from a surf industry perspective offer cheap equipment, but their quality is mostly questionable. The best exam for boards durability is intensive use in surf stations and rentals. For instance, Mistral boards after 3-4 seasons of rental still keep their (good) shape and look. On the other hand, some cheap boards of a "new brand" loose their profile and show other faults (like eva deck delamination) in the first season.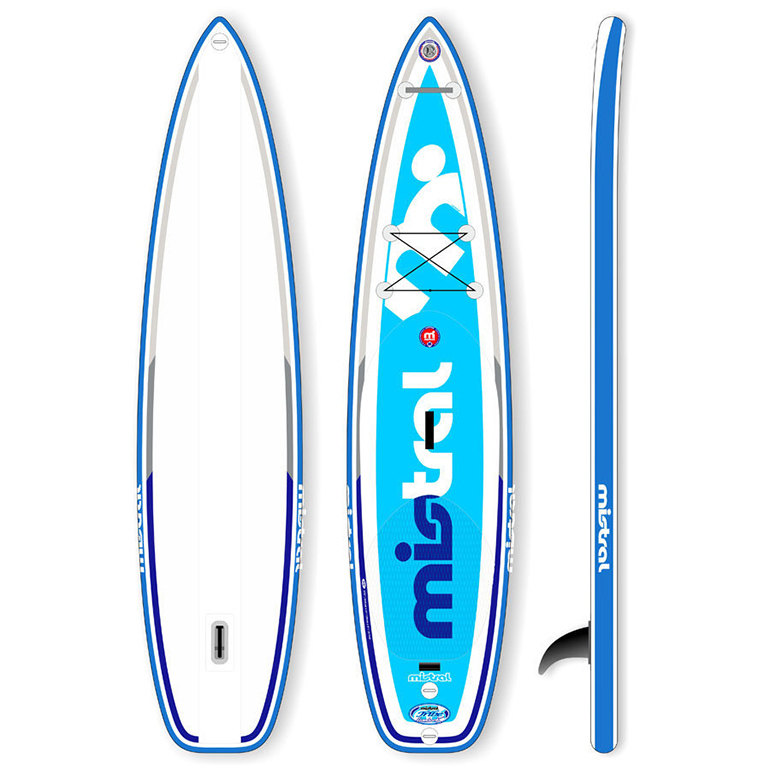 So, what board would be the best? Firstly it depends on its purpose. Whether it will be recreational, holiday usage - so called Allround. We want to have a buoyant, wide and stable board. So we can paddle with a kid, dog, play in a pair or do some yoga asanas. If we want to go for longer excursions, paddle at a pace - it's best to choose a Touring board, slightly narrower, with longer waterline, faster. You can also race on inflatables nowadays - those boards are even narrower, specially designed.
Quality and durability of the board depends mostly on the outer layer material (PVC) and glueing. Constructions can be single or double layered. This affects the stiffness of the hull, which is especially noticeable by heavier riders. You don't want your board to bend and shake unpleasantly while paddling…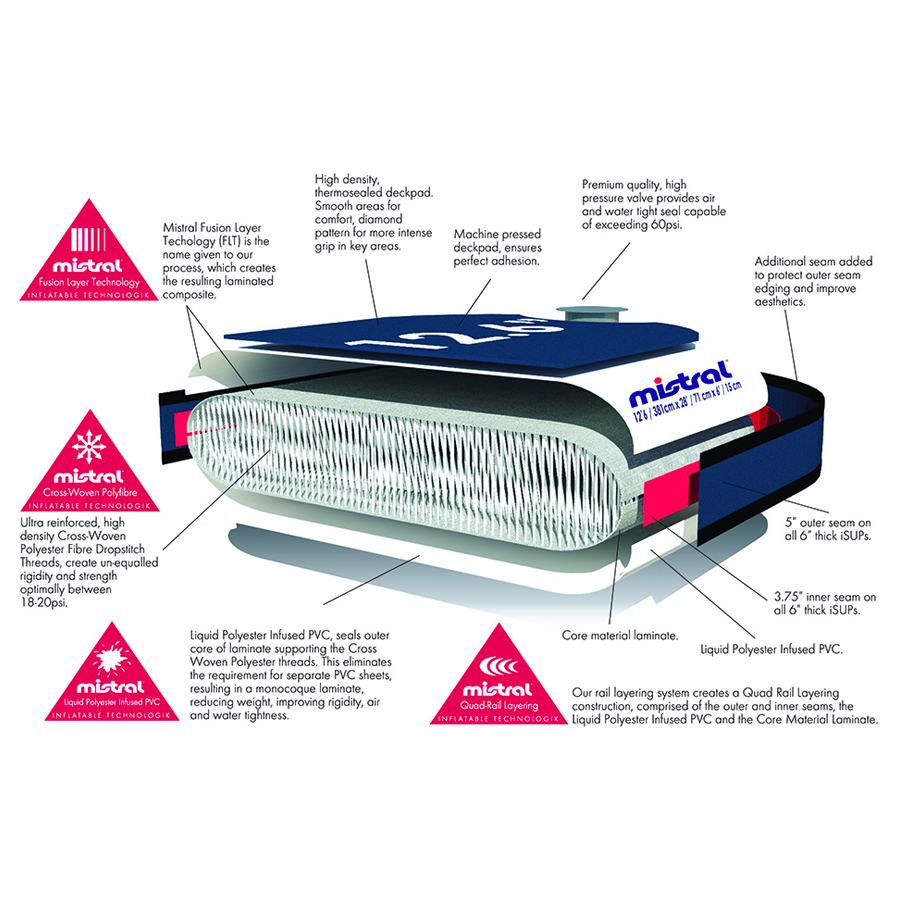 Below there are some recommendations for best inflatable SUP choices in our offer:
ALLROUND
| Model | Main advantages | Construction | Price |
| --- | --- | --- | --- |
| Mistral Tribe Line | stable, top quality and durability | fusion - double layer | 639-729 EUR |
| Unifiber Energy | versatile, well crafted | double layer | 639 EUR |
| F2 SUP TEAM | low price, established brand | single layer | 429 EUR incl. paddle |
TOURING/RACE
| Model | Main advantages | Construction | Price |
| --- | --- | --- | --- |
| Mistral Vortex Air | revolutionary 4-chamber design, extremely fast | 4-chamber | 1399 EUR |
| Mistral Spirit | stiff, fast, very durable | fusion - double layer | 899 EUR |
| Unifiber Touring Endurance | well shaped hull, durable | double layer | 659 EUR |
| Skiffo Sun Cruise | versatile, fast yet buoyant hull, option for kayak seat attachment | double layer | 619 EUR incl. paddle |
Quality of paddles is a separate issue. I had an opportunity to test "carbon" paddles from one of sports chain supermarkets. I was having an uncomfortable feeling that I'm holding a soft, thin stick that is prone to crack after couple of hard strokes. It is definitely worth to get a decent paddle.
Summing up, as long as you plan to SUP more than just few times a season, spend that little extra money on your equipment. It will be reliable and last longer!
Author: Mrowa