The 2016 Arrows iRIG is the first inflatable, reinforced rig on the market that can change your SUP board into windsurfing set in no time! It works with both rigid and inflatable stand up paddle boards. This is revolutionary product that can change windsurfing entry level and schooling, as it is 70% lighter than traditional rig.
You can pump it with your iSUP pump in under 100 seconds and enjoy your session on the water.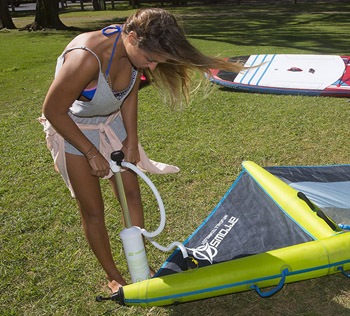 Easy to use
Combined with inflatable "boom" and "mast" it always float on the water, which makes learning and starting effortless. This is ideal addition to your SUP if you want to have fun in low winds or if you want to start your adventure with wind-powered sports. After deflating the you can pack it in regular backpack and take it everywhere with you as it's so compact. It basically eliminates every transport problem and storing takes no space compared to regular rigs. It has no hard parts so it reduces the risk of injury to absolute minimum.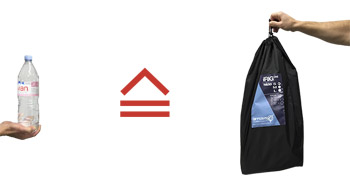 Ultra light
The weight of complete rig is about 1,5 kg only! You also don't have to worry about drifting off wind anymore, as it floats on the water you can easily paddle back to the shore with your hands effortlessly. With this iRIG everyone can enjoy the beauty of SUP and Windsurfing in low winds, instantly. It has been developed in collaboration with North Kiteboarding, which combines quality, technology and reliability as it proves that inflatable sails can also be extremely useful and can revolutionise windsurfing area.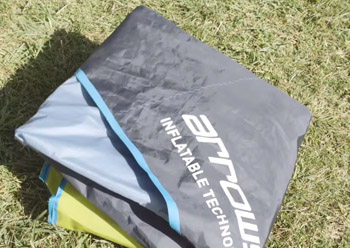 Easiest rig to transport on the market
Transporting your windsurfing set never been easier! As it is inflatable you can simply fold it very tight, pack it into your backpack and you are ready to take your rig everywhere with you! With this solution you will not miss a single session on the water because of transport issues.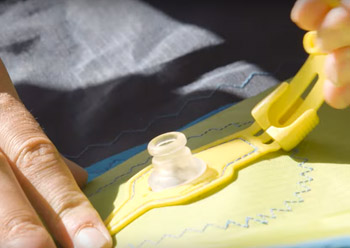 First inflatable rig in the world
Arrows came up in collaboration with NKB as it is one of the leaders on the market when it comes to inflatable kites and created together the iRig. First inflatable rig on the planet with solid construction and durable valves, as they are based on NKB inflation system, which guarantees reliability and efficiency.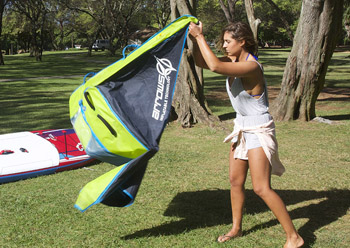 Takes you on the water within blink of an eye
Setting up your rig is simpler than ever! With only inflatable parts you can be ready to go on the water in under 100 seconds! This is the fastest way to enjoy windsurfing yet invented. All you have to do is simply put your iRig on the ground, connect pump and before you'll even notice you will be already surfing.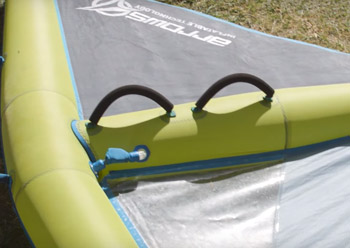 No hard parts so you can't injure yourself
Risk if injuring yourself has been reduced to the absolute minimum, as every parts of this rig is either soft, inflatable or covered with soft eva foam, so there is not a single hard part which may cause an injury. With this gear you can enjoy the beauty of windsurfing without any danger of getting hit by a hard mast or boom.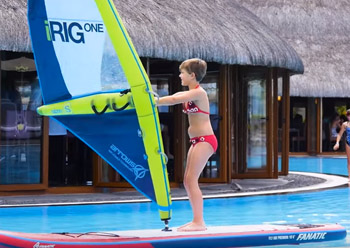 Guaranteed fun in low winds
Instead of laying on the beach and getting bored in days with low winds iRig gives you opportunity to spend time actively and have fun and joy of windsurfing even when the wind doesn't deliver. Great alternative for those who can't stay in one place and always have to do something active!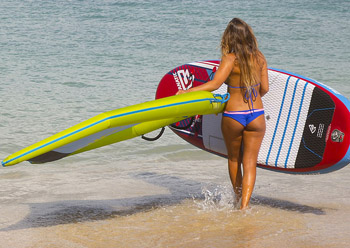 Ultra light and ultra compact
It's very light and compact gear so you can literally fit in everywhere, into your bag, backpack or car trunk. As light as it gets everyone can transport it without any problem or inconvenience. The entire weight is about 1,5 kg so even kids can take it by themselves and set it up!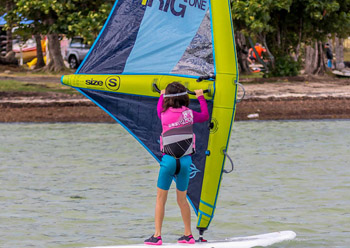 70% lighter than normal rigs out there
The iRig don't include any hard or heavy parts so its weight is approximately 70% less than your traditional rig. Its only weight is material, rest is working thanks to the inflated air.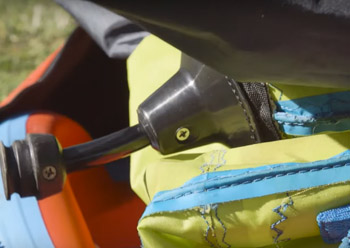 Mastbase to connect it to your iSUP
iRig features built in solid and durable mastbase plate which allow you to connect it to your iSUP board and discover the beauty of windsurfing in lower winds.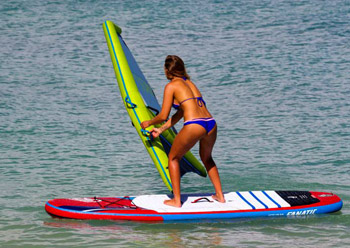 Floats on the water
You don't have to worry anymore about inability to come back upwind if the wind will drift you away. As the iRig is fully inflatable it floats on the water so you are safe at all times. It allows you to paddle back to the shore effortlessly and with ease. It also eliminates the problem of using a lot of power to pick up the rig out of the water after it falls. All together it just makes windsurfing simpler and more enjoyable then ever!
For instant answer - open the chat and ask your question. We're active 9.00-17.00 CET.
Is it afterhours? ​No problem - leave us a message and we'll respond early the next day.
​+48 513 020 570
For those who prefer phone calls - that's our number. You can give us a ring between 9.00-17.00 CET.