Noumea Dream Cup - Maciek Rutkowski story from New Caledonia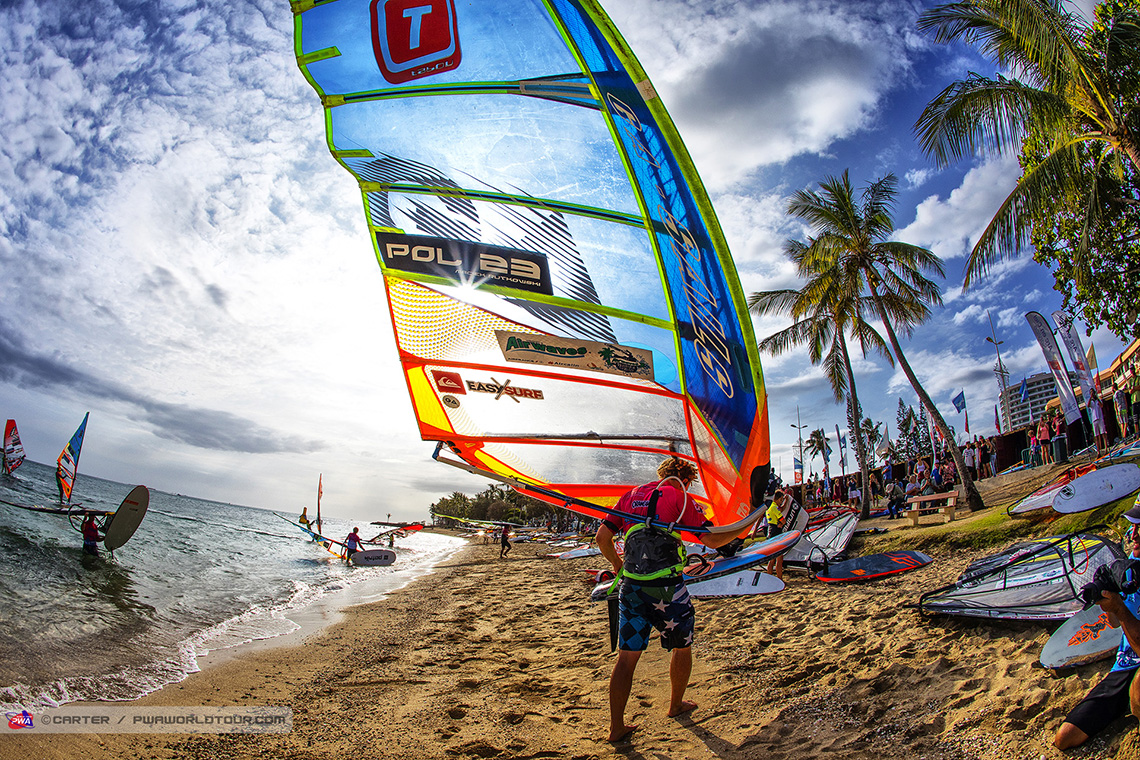 "… I think it's about time to wrap it up." I said to the little green light on top of my macbook's screen. "Thank you all for tuning in and I hope I answered all of your questions". I clicked END LIVESTREAM button and closed the laptop with a sigh. We were sitting in the newly arranged conference/showroom at EASY SURF Shop and I have just finished my first live Q&A session on facebook. Facing me from the other side of the room sat Mrówa, the marketing manager. "Finally!" he gashed "I thought we'd never get out of here". He's been telling me to speed things up since like 40 minutes. But I promised I would answer every single question thoroughly and I was not going to let anybody down. It was 9pm and not only was it way passed the guys' working hours, but I was also late to get to the airport. I was about to fly to New Caledonia. Even though I was more prepared than usual, the final day of preparations was still fucking hectic. And now I had to jump in the car, floor it 3 hours to Warsaw and pray the check-in ladies will be in a good mood. As usual the bags were over any sort of weight and size limits and as usual, I was convinced I will get away with it. Somehow, yet again, I did it! Sweaty as always (imagine dragging 5 30+ kilo bags from the car to the check-in and then from there to the customs scanner) I heavily sat down in a tight economy-class seat. Destination? Paradise.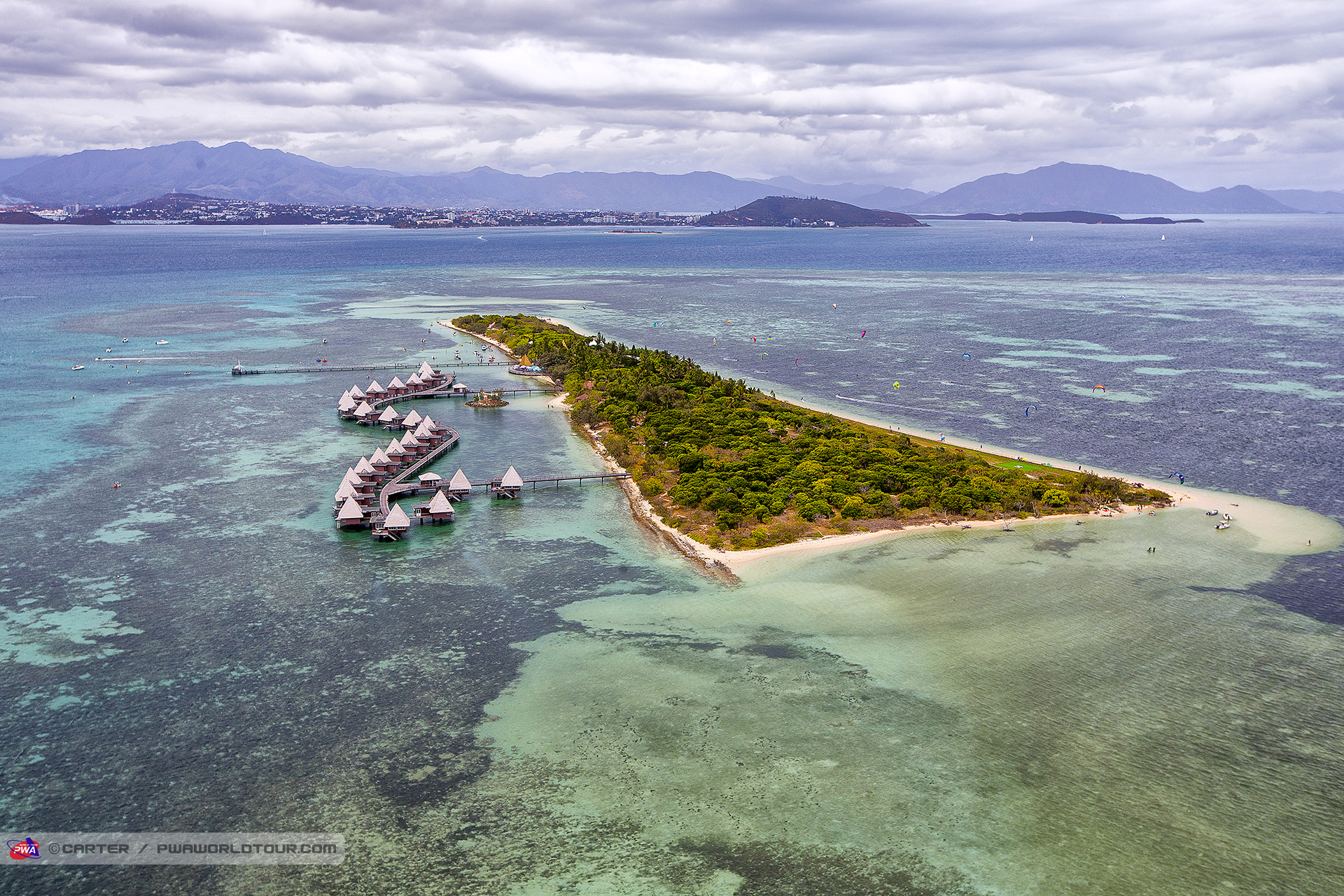 New Caledonia is one of furthest places you can travel to from Europe. 18 000km in straight line, it's rarely less than 35 hours trip. But god damn, it's worth it. You land there around 11pm, but it's still around 20-25 Celsius degrees – just perfect temperature for living. The next day you get to the beach, the sun is out, the water is as blue as it gets, no wetsuit needed and 18-25 knot trade winds every day. It's like the slalom version of Ho'okipa. A freeriders wet dream.
Also aside from the water, it's something else. The first time I went I was surprised by how big the city was and how civilised everything is. As opposed to the Carribean for instance, you don't see people living on the streets making art or music. You don't really see poor people either. There's still a little bit of a gap between the French and the Canucs, but far less than most places I've seen. The French seem to respect the culture and the bond the locals have with their land. For instance every official function there is the president of the town, but also the chief of the Canuc community. On the opening ceremony we pay our respects and each give a gift to the chief to welcome us and grant us permission to "use" his beautiful land and sea. It's feels like a true cultivation of the culture, something most of us totally lost in the whole chaos of globalisation. And than you go away from the city and you get straight up beautiful wilderness. Volcano-like landscapes mixed with a lot of green and turquoise water make it some of the most beautiful backdrops you'd ever imagine. And Noumea is only one of the islands! Go to Isle de Pins for instance (where I went with Antoine and a couple locals in 2014) and the place is unreal. Imagine the Bahamas with it's small sandy islands, but covered with pine trees! WTF? And I'm sure we've still only seen a small part of the place!
You almost forget you're there on business. We all laugh that today we won't even push, will just cruise around the islands, reefs and lagoons, play around with the dolphins and turtles, be in full freeride mode. 30 minutes later you find yourself testing fins and masts. Killer mode.
The days go by quick and before we noticed, the contest is on. I'm seeded thru to the quarterfinals thanks to my top16 PWA ranking coming into this event. The goal is to do good and the ranking will take care of itself, but when ranked 18th Andrea Rosati goes over early and ranked 17th Tristan Algret looses on the first quarterfinal I can't help to notice. I line up for my quarterfinal.. 3…2…1… BAA BAA, double horn. Means somebody did a premature start. I jibe and come back to the start boat. I'm still hoping but deep down I know I'm gonna see POL23 written on that over-early board. I'm not wrong. FUCK. Bad beginning. Plenty more racing though, I tell myself. Again and again until I finally believe it.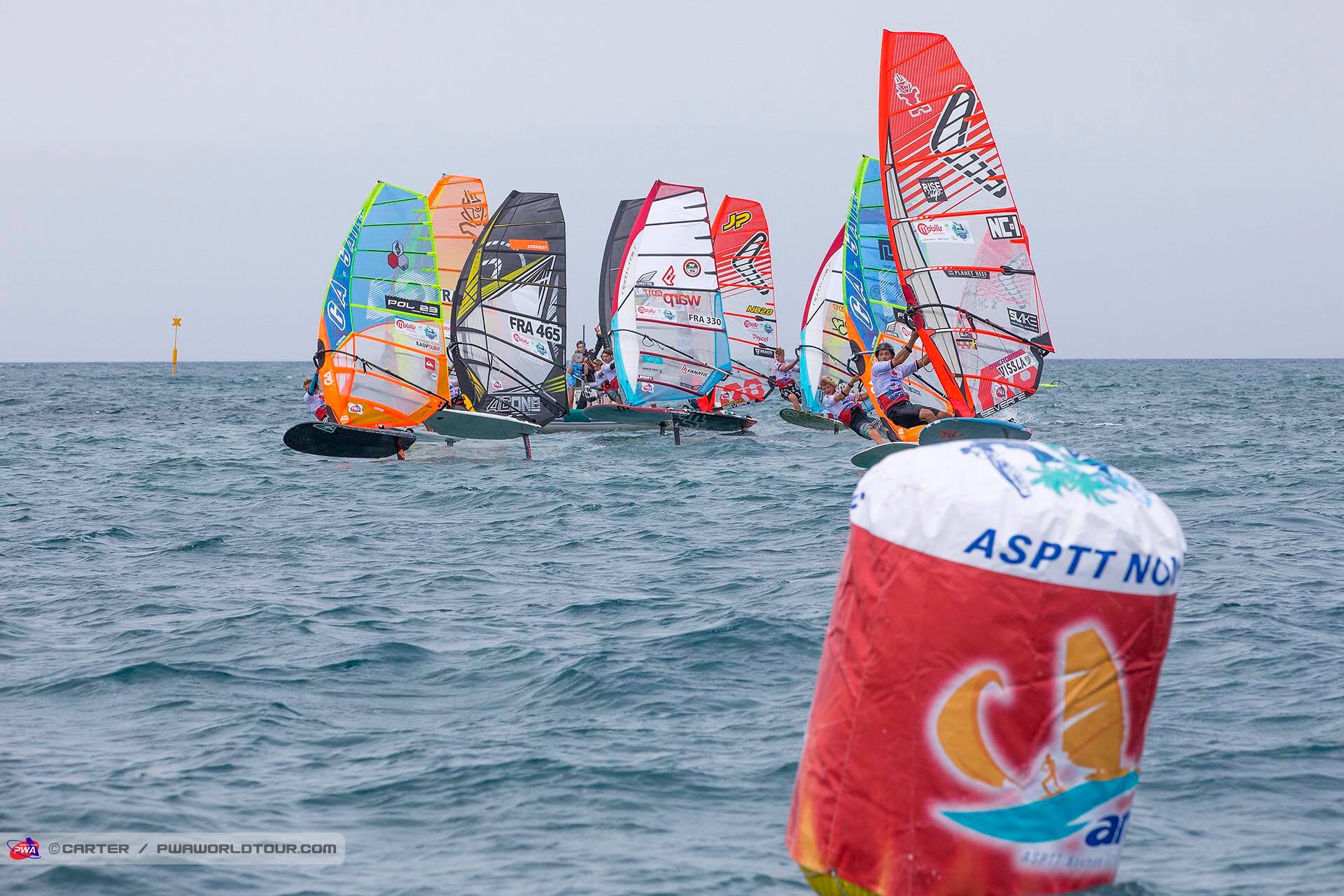 When I start an event bad I tend to rally. And so I do. I get 2 straight winners finals, two top8 results. I don't check the standings, but I know that with a discard I'll shoot up like the Apollo mission. Hopefully I'll land a bit better though. Then I start getting a little shaky and start making a few mistakes here and there. I get inconsistent. It's been haunting me for the whole season. Strong, confident heats mixed with subpar performances. But 4 days gone and 2 days to go it's looking like I'm going the absolute minimum to that top16 rank. I usually don't check the results but I can't help it. I'm one place in front of Tristan and 4 in front of Enrico Marotti, which means the latter would finish 15
th
, me 16
th
and Tristan 17
th
. Why is that so important? The top16 gets free accommodation for all of the following PWA competition year which saves quite a bit of budget. Plus you get seeded straight into the quarterfinals. Worth fighting for anyway.
In the meantime, when the wind is not steady enough for slalom, we run foiling. I love foiling. The feeling is like nothing you've experienced before and racing on foils is not only very fast, but also exciting and dangerous. Somehow I like dangerous. Makes me feel alive. That discipline I also start with an over-early (I know, I know…), but quickly back it up with a 6
th
and two 2
nd
places. After 2 days of foiling I'm 2
nd
just behind Gonzalo Costa Hoevel, who is racing flawlessly. He's fast but his dominance came from perfect starts, perfect laylines and just overall good decisions. But I was content with 2
nd
, and I'd be fine if we didn't race foil anymore.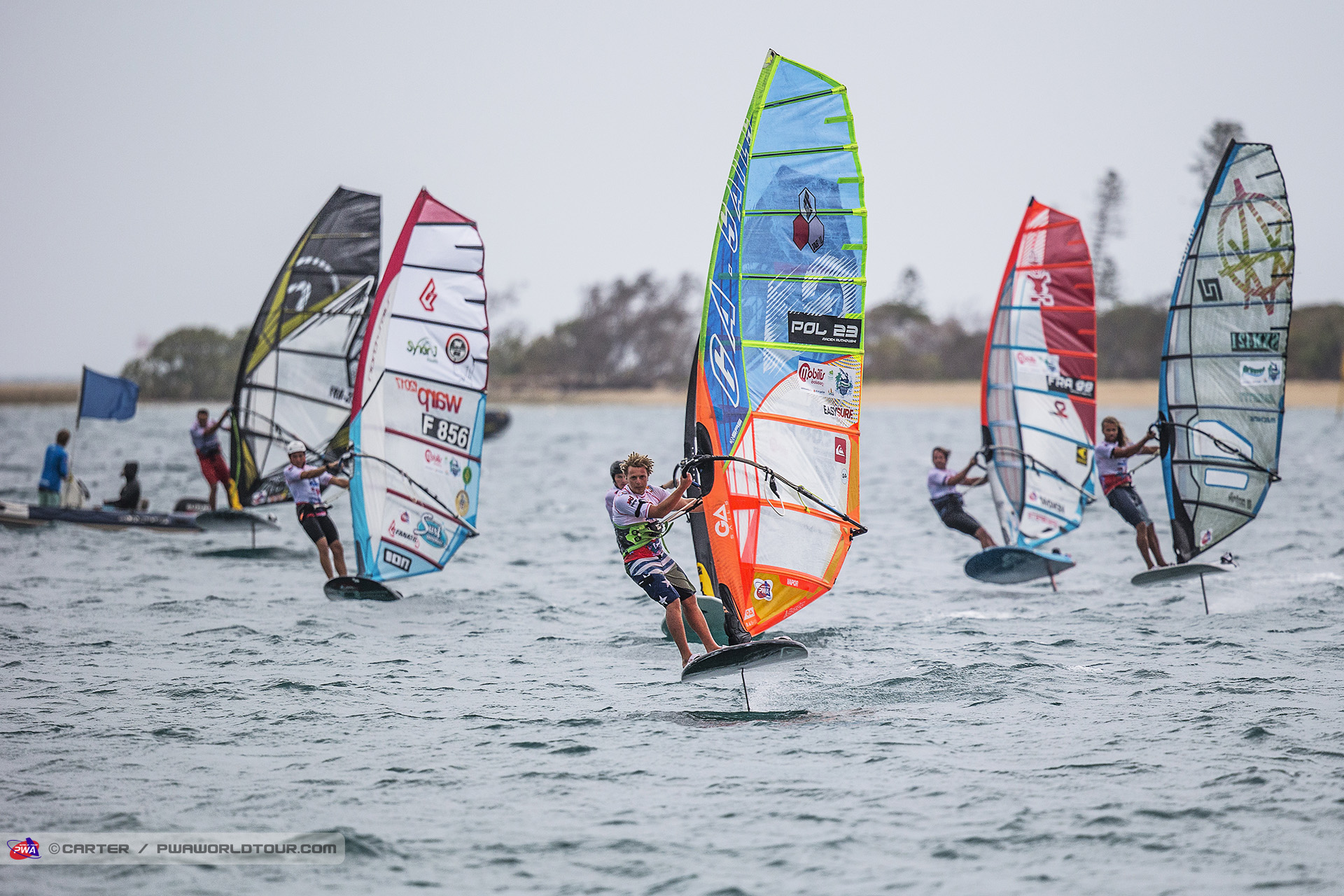 Maciek Leads the Pack[/caption]
But then came day 5. Penultimate day of the season. We started with foil in the morning. On the first race I got a terrible start and rounded the upwind mark in something like 15
th
. I fought back thru the fleet like crazy, but still only finished 6
th
. Nico Goyard got 2
nd
and he took that 2
nd
overall spot away from me by one point. Second race I was much more sharp, first lap I was around 6
th
, with a good second upwind I came back to 4
th
, behind Antoine Albeau. On the last downwind I got a gust and caught up. He was coming into the last mark and I managed to get an inside line. It was a risky move which demanded a perfect foil jibe and doing it tight. I managed to jibe in the air, but it wasn't exactly tight and right after I flipped my cams, we touched. I got a little scared and let him go in front of me. I tried to lock in and still fight for 3
rd
but AA is not the slowest guy in the world. Unfortunately while we were fighting Nico shot downwind and managed to overtake BOTH of us! Worst scenario ever as now I was 4 points behind 2
nd
place.
The wind picked up and we switched into slalom. It picked up strong so I put some extra downhaul on my 7.9, changed the fin down to 36, made the harness lines longer. Generally just set up my gear for full power, only staying on 7.9 because of lulls on the first mark from time to time. But right before the start of my heat the wind completely died. I got to the mark in 5
th
and then the rest of the course was fighting with Julien Quentel going from 4
th
to 5
th
and back. In the end after a hell of a fight I finished 5
th
– 18,5 points. Not good at all as I needed a strong performance. But it could be worse, I told myself. As I was going back to the beach I watched Tristan get to the final. Than I watched him sail a great heat and jump into the lead, just to get peeped by Arnon Dagan on the last reach. 2
nd
for my rival - not good at all. In the evening I checked the results again. Of course Tristan jumped me on the event leaderboard, but Enrico after another mistake was now 6 places behind me. That ment now we were tied for 16
th
, but I was winning the tie-braker. Last day was supposed to be windy tho, so all could happen.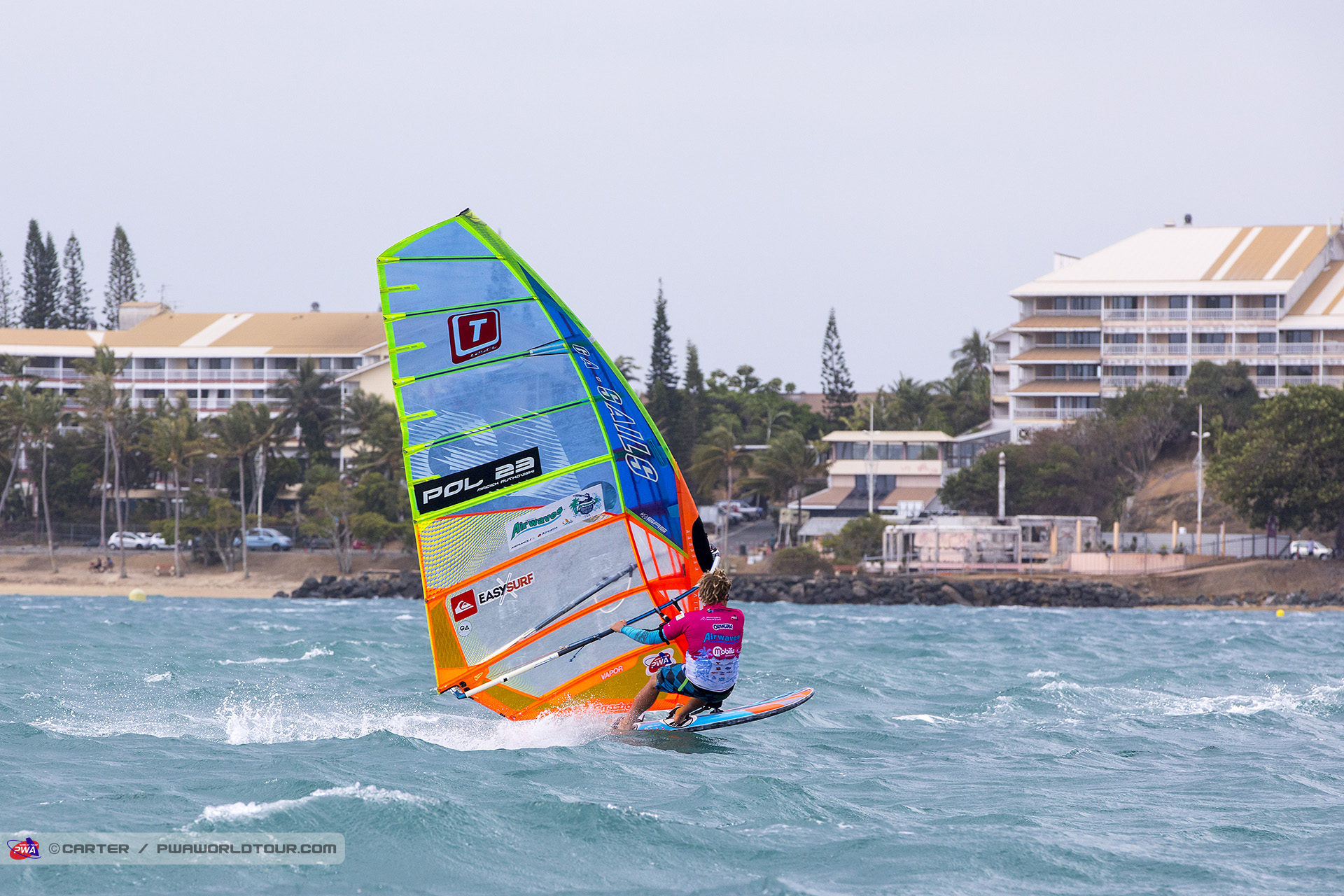 Woke up on the last day of the season fully stiff. 5 days of racing has taken it's toll, but more than anything I was just stressed. If I kept going that way I could loose the podium in foiling and top16 in slalom. I tried to calm myself down and tell myself my life ain't gonna change if this happens. Yes, it will hurt, but in the long run it will not matter as much. But I wanted it. Really bad. And when I really want something the stress actually helps. Makes me sharp. Or maybe that's what I told myself. But this time I fully believed it.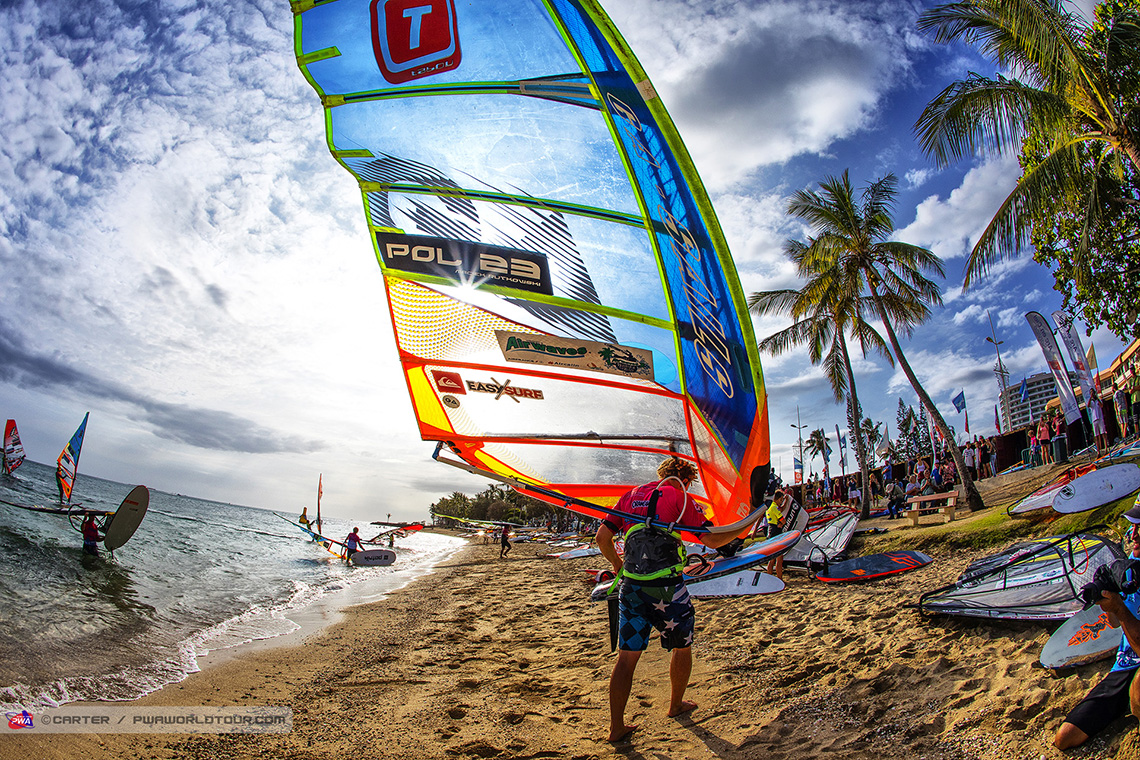 And it worked. Not only there was no wind for slalom, but in foiling I was sharp. Finished the first race 3
rd
and with all my rivals getting shokers I was back into 2
nd
. But then the race director decided we will do a long distance around one the nearby islands. I usually hate long distance racing, but this was on foil – something new. Conditions were pretty bad though, you could easily get a bad shift and get screwed. And so I did. Rounded the first mark probably outside the top15. Came back all I could, but only to 11
th
. I was still in 2
nd
but with one more fuckup I would run out of discards and could drop aaaall the way down. One more long distance they said. Get a good start and have your eyes around your head I said. Good is an understatement. I got a perfect start, rounded the upwind mark in 1
st
, the downwind mark in 1
st
and only on the last short upwind to the finish got a huge hole and lost 2 places. Still, 3
rd
was easily enough to keep my 2
nd
place overall. I knew by then that my GA Vapor racing rigs, board, wing and me obviously performed well. Little fist pump as I crossed the finish line and a bigger fist pump when I got back to the beach and heard that's it for 2017. "See you next year".