Mistral's story - heritage and present day

Mistral is the watersports forerunner with great history, innovations and future
Oceans, seas, lakes and rivers are more than 70% of planet Earth surface. But it was Switzerland, a country not often associated with aquatic sports, where the history of the company begun. In windsurfing very early days, in 1972, the production of equipment kicked off. By 1976 Mistral created first international monotype class called One Design. It was later an Olympic windsurfing class between 1996 and 2004. But Olympics is just one aspect of the sport. Most of all the company, since early eighties, transformed a niche invention into a globally recognized and beloved sport (especially in Europe). Set the tone of the developing industry. And it's worth to remember that in that times there was no extreme sports as we know them nowadays. It was Mistral proriders, including Robby Naish, himself, that were making first high jumps and loops above the water surface.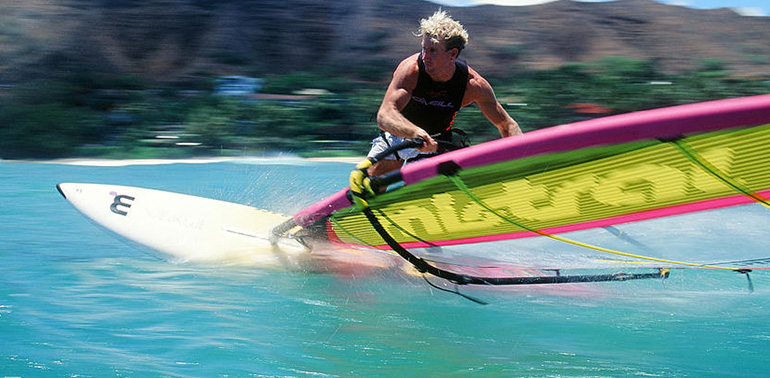 Global recognition and Mistral's heritage empower the red dot logo to be one of the most valuable signs associated with the watersports. It represents authentic values of living life to the fullest; pursuing activities in nature, sun and water. Who ever travelled to the world's best windsurfing spots, for sure knows what Club Mistral is. There was also a licence given for Mistral's branch that entered street fashion industry inspired by the values of watersports lifestyle.
For different and complex reasons, Mistral abandoned windsurfing equipment manufacturing for some years and focused on creating innovative and best quality gear for a newly evolving discipline - Stand Up Paddleboarding. As one of the first, they introduced inflatable boards concept which became a milestone in discipline's rapid growth. In our shop, you can find a broad collection of Mistral inflatable SUPs. Those boards are not the cheapest, but definitely one of the best available on the market - regarding quality of used materials, construction or shapes. It's the best choice for those looking for high-end, trustworthy gear that will last for years to come. Boards manufactured by Mistral which are used in rental stations extensively and rough, remain almost unharmed after many years. On the other hand, cheap boards may reveal defects in the first season. Quality of used materials itself is crucial in case of unwanted contact with any sharp object.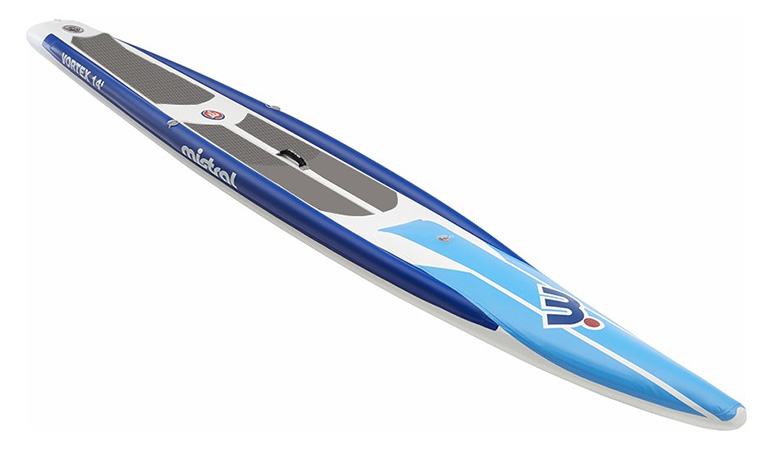 Recently, Mistral made a little revolution on SUP market again introducing inflatable boards with four independent chambers. The whole new construction with shape resembling professional laminate and carbon racing boards makes this construction much faster than typical inflatable SUP. It's definitely worth to get acquainted with SLIPSTREAM AIR and VORTEX AIR.
Mistral's original idea is also to merge SUP and windsurfing board. WindSUPs have an option to mount mast base and an additional center fin to use it as a recreational windsurfing board. Or without the base and center fin as a regular SUP. WindSUP is a great, universal recreational solution! Check out our bestseller - Santa Anna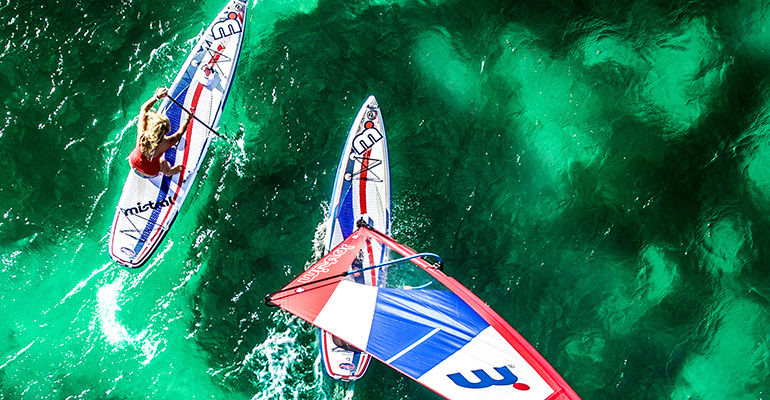 Obviously Mistral is also a leader in hard SUPs manufacturing. There are allround, wave and racing dedicated boards. Mistral racing machines are pretty pricey but very demanded in professional racing scene.
Moreover, Mistral company supports French Polynesian tradition of Outrigger Canoe Sailing organising a series of events. Wind, paddle, muscle power - that was the way to travel and spend time for centuries at such paradise islands like Tahiti or Bora Bora.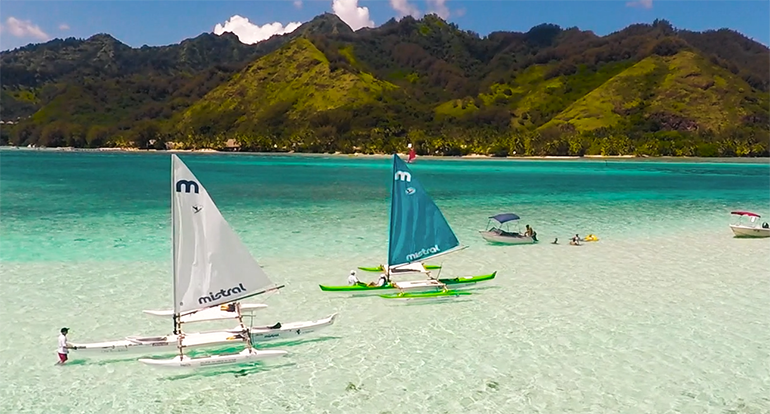 The brand also manufactures rigid and practical inflatable kayaks, in case you prefer to paddle the blue in sitting position rather than standing upright. This kayak fits in your car's trunk!
This year the legendary brand decided to come back to its roots - windsurfing equipment manufacturing. Over two years they discussed and researched in what way to do that best. The conclusion was that most of the companies are constantly pushing the sport in its professional aspects manufacturing equipment which is more and more elite, technical, complicated to handle and expensive. So Mistral decided to focus on purely recreational side of the sport. They want to cater the needs of average "weekend" sailors and beginners. So the collection is pretty simple with no unnecessary technical hassels. And there is and oldschool shaped longboard for beginners and lightwind. There is quite a bunch of people that still remember old times of windsurfing, that don't like wide and super short boards manufactured nowadays by every brand. Why? Because those boards are much slower in light-wind non-planing conditions. Windsurfing is not only practised on ocean spots with steady and strong trade winds. There are countless lakes all over the world, where the wind is light to moderate most of the season. It's super cool that Mistral is coming back to the roots with some oldschool, narrow and long shapes. The history is likely to come full circle!
Author: Mrowa