MAUI ULTRA DELTA WINDSURF FIN
Sizes: 16 / 17 / 18 / 19 / 20 / 21 / 22 / 23 / 24
Discipline: Freeride
Type: Delta
With the Delta wing series Maui Ultra have introduced a completely new category of fins. Inspired by the aeronautic Delta wings, Rick has transferred the special aerodynamic features to windsurfing applications:
very short wing span combined with a large area
very thin and stiff profiles
high rake of 55 degrees
additional lift due to leading edge vortex at high angles of attack
All these features make the Delta fins the ultimate tool for shallow spots, extremely weedy conditions and speed sailing. Compared to a straight freeride or slalom fin, the fin length can almost be halved. Combined with the high rake, the danger of injury by touching ground is greatly reduced. Speed sailors can finally use the flat conditions of tidal waters for even higher speeds.
Delta wings are fast, easy to control, have great upwind abilities and jibe great in wide and medium arcs.
Tuning tip for Delta fins: Avoid too much back-foot pressure – especially when not fully planing – and keep the board fairly flat (nose down). That will help you to avoid spin-outs.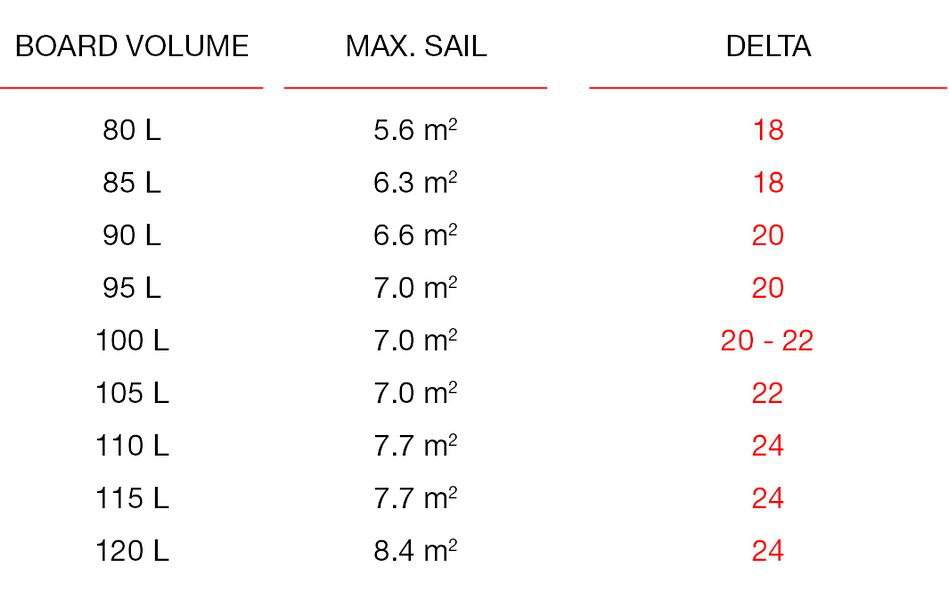 The size recommendations should help you to determine the correct fin considering individual board and sail sizes. This general advice is based on a rider's weight of 80 kg. Any 10 kg more/less should in-/decrease your choice to nhe next available fin size. All advice is meant as guideline only. The individual fin choice also depends on factors like experience/skill level, board width, conditions etc.
For instant answer - open the chat and ask your question. We're active 9.00-17.00 CET.
Is it afterhours? ​No problem - leave us a message and we'll respond early the next day.
​+48 513 020 570
For those who prefer phone calls - that's our number. You can give us a ring between 9.00-17.00 CET.