BULLITT - CLASSIC FREERIDER
Durable, fun freeride board at an accessible price, the Bullitt offers performance freeriding to families and students.
FOR WHO
Freerider on a budget.
Easy to use, durable, and accessibly priced, the Bullitt is the perfect board for new windsurfers or as a family board that the kids can learn on and mum and dad can use as well. Tabou took the smooth speed and easy jibing of the Rocket and adapted these features to work with a less expensive construction. They optimized the volume distribution for stability and easy balance. Even though it costs less, the Bullitt's AST construction allows the board to be resistant against the small dings that come from dropping a board or banging it against rocks. Get on the water without breaking the bank; get on the Bullitt.
SIZES
There are 5 sizes to choose from, depending on your weight, skill and purpose of the board. Volumes to choose are: 125, 135, 145, 155 and 185 liters. 125 is totally different than 185.
BOARD SHAPE
The 125 is typical freeride board very similar to Rocket. 135, 145 and 155 are family boards on which you can learn basics with your kids and when the wind gets stronger you can use it as freeride board which is fast on the straights and easy in turns. The 185 is daggerboard on which everyone can learn basics or go lightwind touring. In strong winds you can fold the dagger and start planning.
FOOTPADS AND STRAPS
Bullitt features quality comfortable 4 Tabou footstraps. Footpads made of EVA provide soft feeling. This board has footstrap positioning to suit any level from beginner to advanced rider. Bullitt can be used with single back footstrap.
FIN BOXES AND FINS
Bullitt 125 has single fin box with powerbox system, where you mount your fin with one screw from the top of the board. Sizes 135, 145 and 155 have rear powerbox fin box and center fin box with same system for non-planing conditions. When the wind gets stronger you can dismount center fin and go planing with full freeride board. The 185 is daggerboard. This size is equipped with 34 cm powerbox fin and 62 cm folded dagger in the center part of the board.
TECHNOLOGY
This board is built using AST Technology for maximum durability and best value. This technology uses layers of multiaxial and fiberglass mat with an expanding epoxy resin over an EPS core - that combines to create volume within the skin as it cures under pressure. Wood and fiberglass reinforcements for deck, mast box, fin box rail and nose areas improves the board's rigidity and the deck's impact resistance.

SHAPER
This board, like all Tabou boards, comes from the hands of famous Fabien Vollenweider. This French designer has more than 25 years of experience in shaping windsurf boards.
"I am always looking for ways to improve my shapes. I am a perfectionist and do not stop until I get what I want out of a board", says Fabien, and continues: "We don't just change a board because a new year is coming. We change a board when we have learned that something can be improved. Our shapes evolve over a two year process."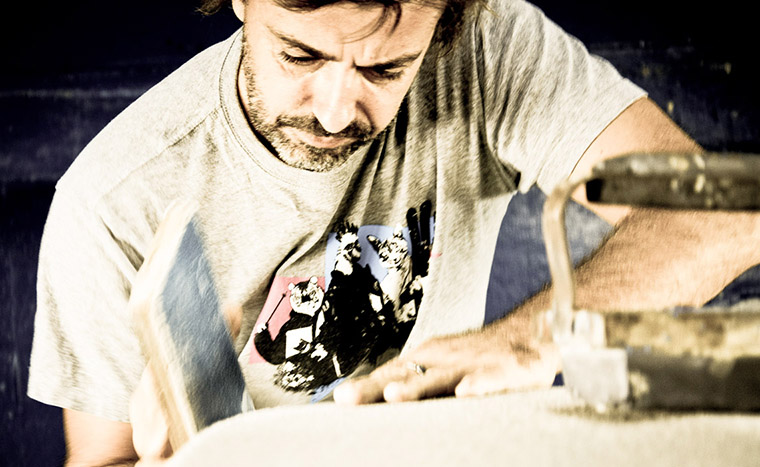 FAQ - frequently asked questions
For instant answer - open the chat and ask your question. We're active 9.00-17.00 CET.
Is it afterhours? ​No problem - leave us a message and we'll respond early the next day.
​+48 513 020 570
For those who prefer phone calls - that's our number. You can give us a ring between 9.00-17.00 CET.