OCEAN RODEO Drysuit HEAT 3.0
Sizes: XS | S | M | MK | L | LK | XL | XLK | XXL
Suit type: Drysuit
Material of cuffs and collar: Neoprene
Heat is one piece high performance drysuit with efficient and clean design which delivers outstanding performance and reliability in every condition. These words become synonymous with Ocean Rodeo's drysuits.

It has built to give you better flexibility and customizable levels of warmth than any other drysuits out there.

Features revolutionary, patent pending CaptiveZip design, which allow you to choose from fully "dry mode" or "standby mode". When you wear the Heat in dry mode it gives you 100% protection and in addition it's breathable.

Between sessions on the water, after a session or on your way to the beach you can open the dry zip and doff the neck seal. Protection from wind and rain provided by an outer, zipped, well ventilated jacket and pants. Even if you are wearing your PFD, you can easily and within seconds switch back from standby mode to full dry mode.

If you want to enjoy your favourite water sports (SUP, kitesurfing, windsurfing etc.) despite the low temperatures out there, and you expect maximum range of movement, thermal comfort and protection from your drysuit - you have to check out the Ocean Rodeo's Heat.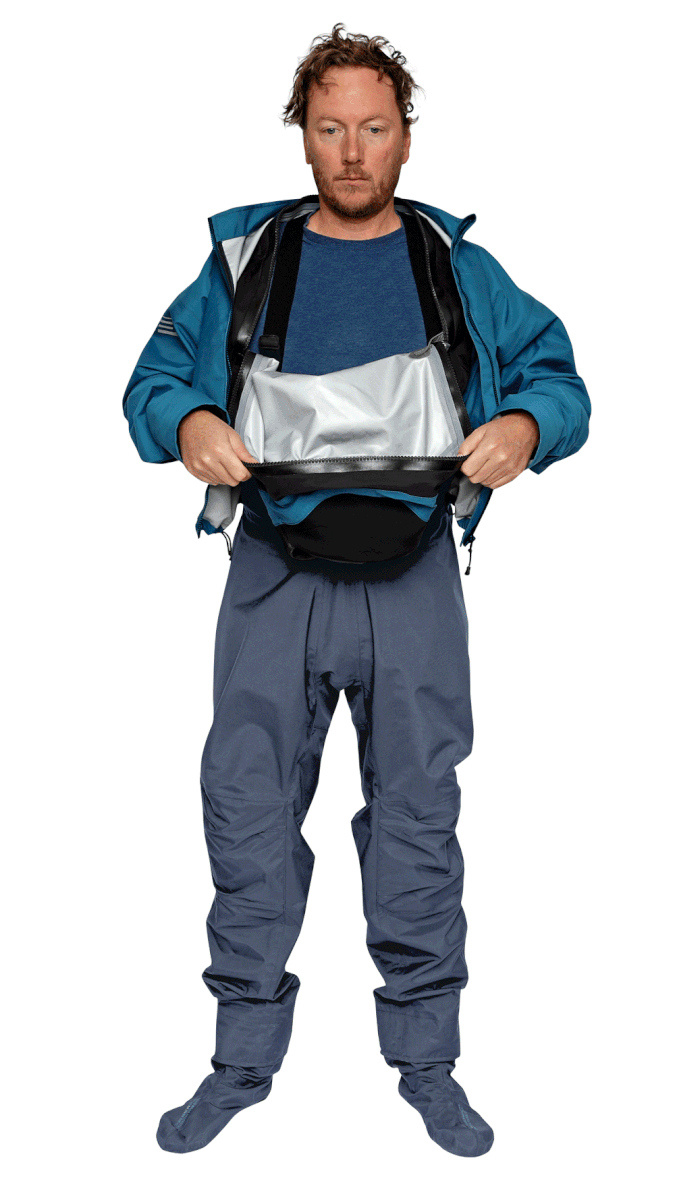 Features:
Stand-by or Full Drysuit mode - Captive Zip Self Entry
German made T-zip Masterseal main dry zip
Captive over flap jacket zip
Streamlined jacket back
Adjustable neoprene neck seal
Neoprene wrist seals
Outer Chest Pocket
200 Denier abrasion overlays at knees, buttocks, and crotch
VENTOR salt water-resistant, drysuit specific waterproof breathable material
Adjustable & removable suspenders
Articulated knees and elbows
Trim to fit, Polytex UV resistant seals
Available with attached dry sock booties
Available with attached Polytex UV resistant ankle seals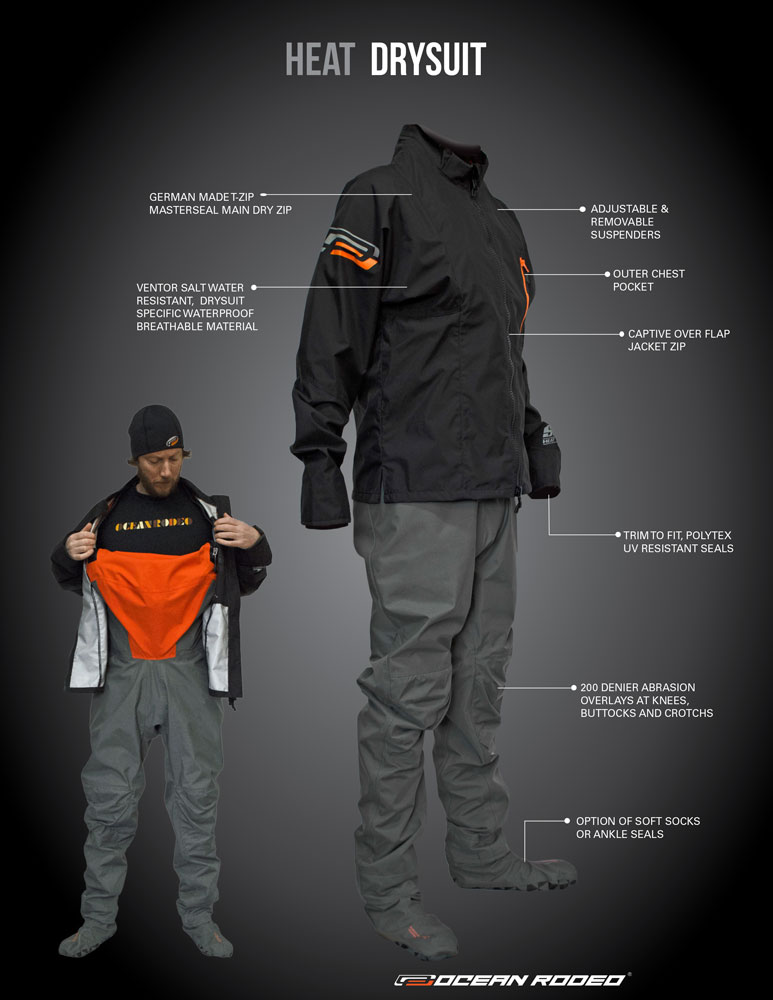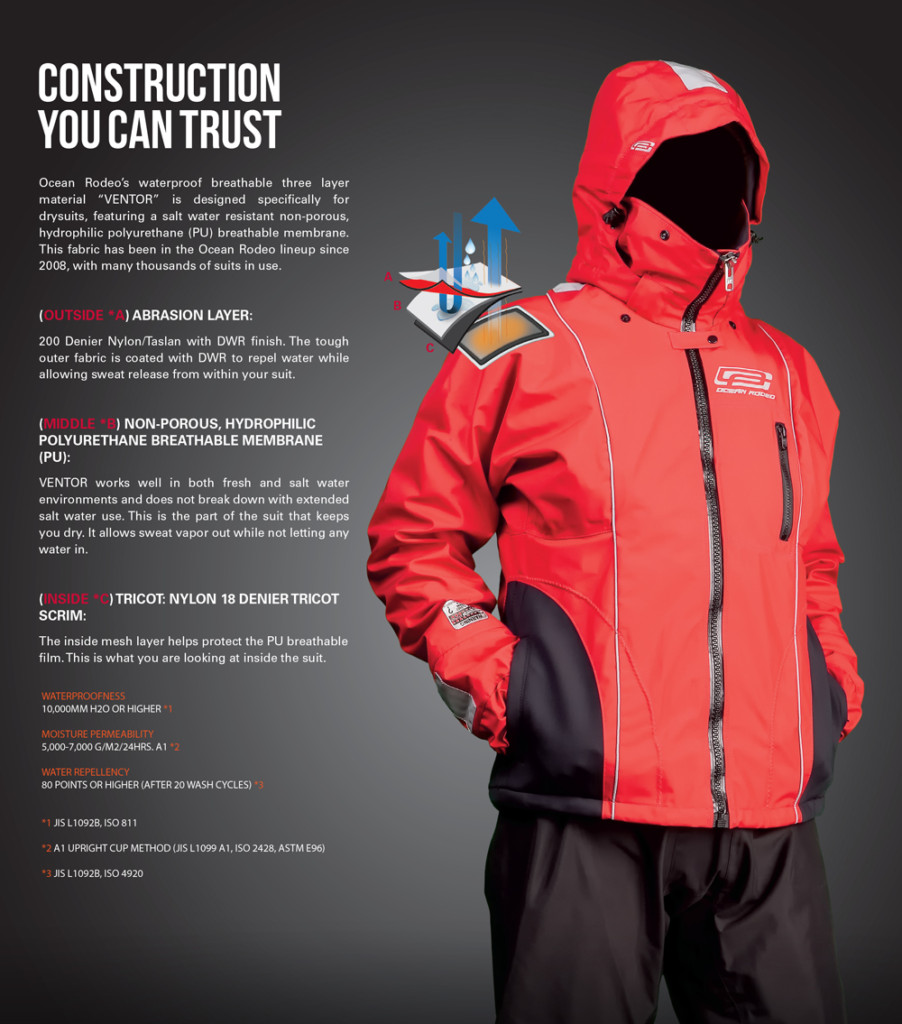 FAQ - frequently asked questions
Drysuits don't require much maintenance, but we do often get asked for some tips. Here's a quick overview. Remember, if you have questions, we are always here to help!
For instant answer - open the chat and ask your question. We're active 9.00-17.00 CET.
Is it afterhours? ​No problem - leave us a message and we'll respond early the next day.
​+48 513 020 570
For those who prefer phone calls - that's our number. You can give us a ring between 9.00-17.00 CET.