JP-Australia Wing foil board F-Winger PRO 2024
The ultimate freeride and freestyle wing foiling machine!
Sizes: 55 / 66 / 77 liters
-> Freestyle and Freeride as free as you can be… whether you're into crazy freestyle moves or pure free flying above the surface, this board has it all.
Compared to our first X-Wingers, these new shapes feature slightly longer, narrower outlines and smoother rocker lines to enhance early take-off. The nose outline is pulled-in for low swing weight and better airflow. To compensate for the lower volume of the pulled-in nose outline, we added slightly more thickness in this area. The slightly concave standing area provides a direct feel over the foil.
The new bottom tail rocker line has been pulled up slightly to keep the nose of the board higher when flying. This is essential to allow more room to generate pop for jumps and to prevent the board from catching any chop when going flat-out or pushing hard upwind.
The very long tracks with full deck-to-bottom foam blocks offer an extremely strong board to foil connection as well as a wide tuning range.
Full deck and bottom PVC sandwich with Innegra rails and brushed paint finish offer the ultimate strength to weight ratio. Advanced technical design features and an intricate attention to detail in construction result in an incredible combo for all kinds of wing foiling.
The F-Winger comes with three super comfy, single plug footstraps.
Features
---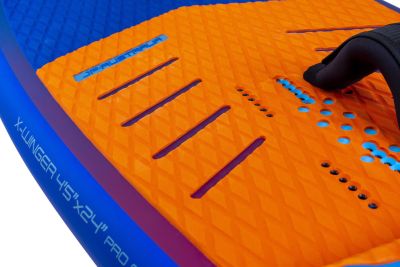 MULTIPLE FOOTSTRAP POSITIONS
The footstrap options offered, cover everything from V-shape, centered and off-centered positions. Ride the board in your preferred stance.
---
LONG US TRACK BOXES
The strength of the track boxes is second to none - full deck to bottom PU blocks with multiple reinforcements covering our signature long US tracks for superior leverage to any forces a foil can throw at it.
---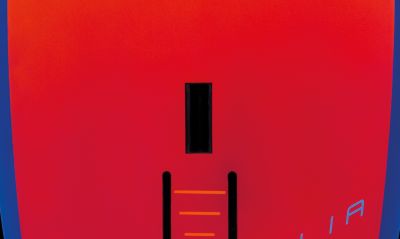 HANDLE
The handle at the bottom of the board supports easy carrying of your equipment.
---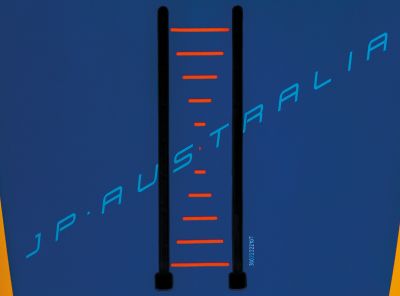 FOIL SCALE
The US Long Track boxes allow different foil positions based on the rider's skills. To remember your individual foil setting, just use the scale printed on the board.
---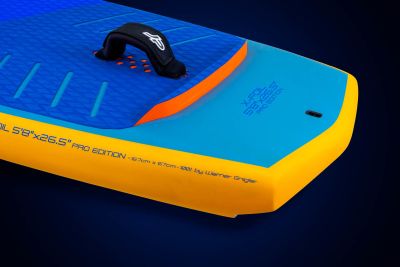 TAIL KICK PAD
Supporting and guiding the foot in the perfect position when riding strapless. It helps to reduce the wetted surface for easy take-off and carefree tight turns.
---
For instant answer - open the chat and ask your question. We're active 9.00-17.00 CET.
Is it afterhours? ​No problem - leave us a message and we'll respond early the next day.
​+48 513 020 570
For those who prefer phone calls - that's our number. You can give us a ring between 9.00-17.00 CET.