GOYA Windsurf board Bolt Pro 2021
Sizes: 97 / 107 / 117 / 127 / 137
Discipline: Freerace
The Bolt Pro is user friendly Race board, and also comes ready out of the box to be enjoyed with a foil. As a far advanced Freeride board, the Bolt Pro is crazy fast, with the power of the Proton Pro, yet with a more accessible and friendly trim.
With its 10 mm of V, it naturally softens the ride over chop on rougher seas. As in dedicated race board, the Bolt Pro comes with tail cut-outs in combination with a light tail release that helps reduce the wetted surface, providing you with sensational acceleration. Being the evolution of our highly successful and best selling Freerace line, the new Bolt Pro incorporates years of development, the feedback from valued customers around the world, as well as the development of three generations of Proton Pro boards in the PWA.
Being a hybrid between its predecessor and the new Proton Pro's shallower double concave, and reduced V of the tail, the Bolt Pro's bottom shape blends the acceleration, speed and comfort of both concepts. With a slightly higher entry rocker from the previous line, it feels balanced in both flat water and the open ocean, across a long coast run, with all the speed and control. By setting the mast track deep into a concave deck, the draft of the sail is lowered, resulting in furthermore forward drive.
Features
Pro Full Carbon Deck Construction.
Available in 97, 107, 117, 127, 137 liters.
Sizes 117, 127, 137 come foil ready.
Neon yellow & blue on metallic charcoal.
Tuttle / Deep Tuttle center finbox.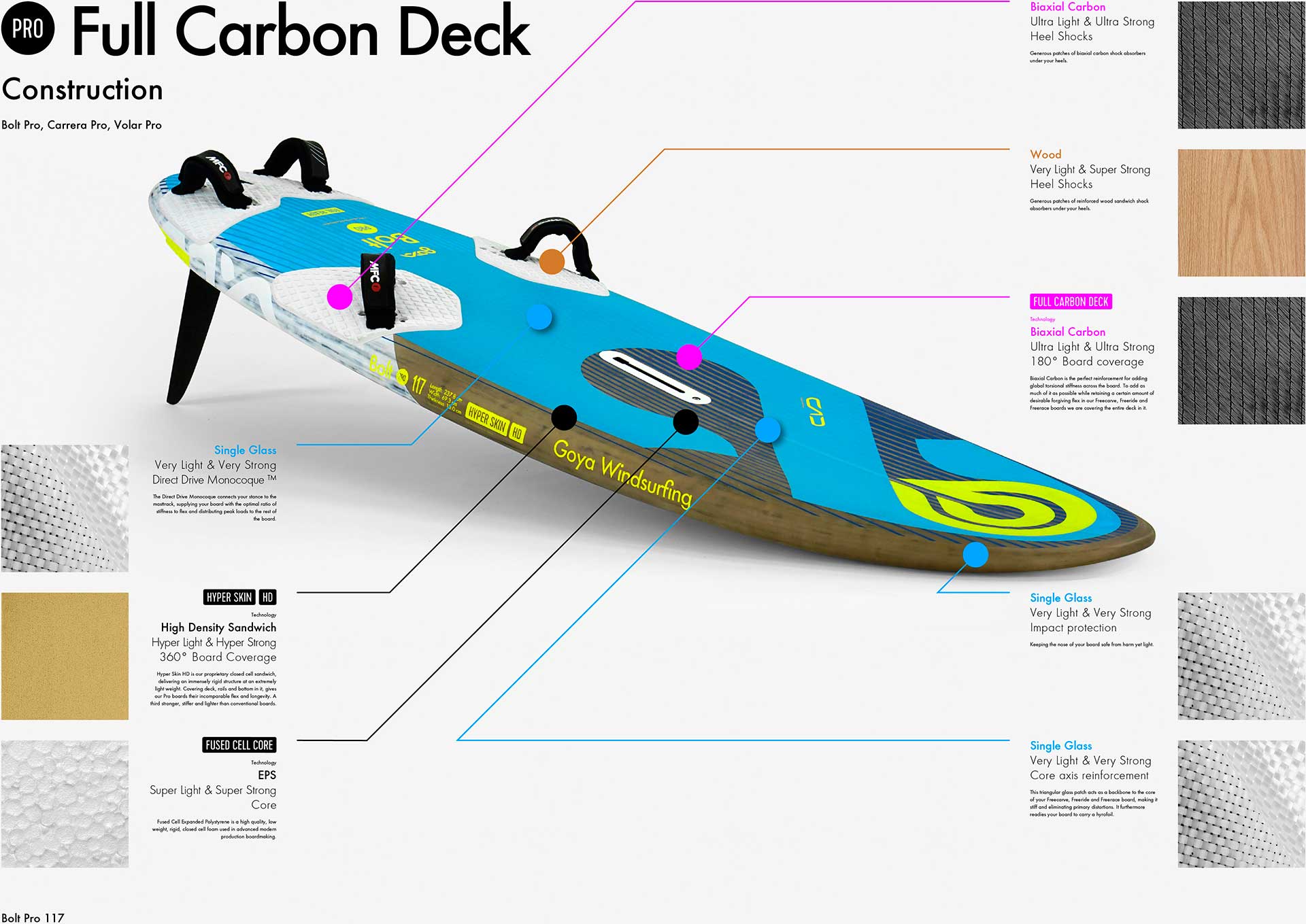 For instant answer - open the chat and ask your question. We're active 9.00-17.00 CET.
Is it afterhours? ​No problem - leave us a message and we'll respond early the next day.
​+48 513 020 570
For those who prefer phone calls - that's our number. You can give us a ring between 9.00-17.00 CET.