F-ONE Complete Wing Foil GRAVITY FCT
Front wing sizes: 1800 / 2200
A GRAVITY foil is intuitive. It generates lift at low —and even very low— speed but does it smoothly so you can easily keep your balance.
The range includes two sizes: 1800 and 2200 cm². Foils with such areas support an early take-off and more lift and stability. However, designers still made sure they also come with enough aspect ratio to maintain a decent speed range and to avoid unnecessary drag.
The span is generous, making it a very reliable and intuitive foil. It also allows you to control low speeds and is overall extremely stable. The refined shape details such as the arch curvature, the profile and the wing tips insure it remains highly maneuverable.
This GRAVITY FCT range is a fantastic option for anybody looking to discover foiling and wanting to consistently progress. Its durable and sturdy materials can withstand the typical mistakes of the early learning stages, and this foil is overall extremely forgiving.
The GRAVITY FCT line is more precisely built with the Foil Compression Technology, a F-ONE innovation that offers impressive mechanical properties. The fuselage can be connected to the standard F-ONE aluminum mast of the desired length. The setup and disassembly are also extremely easy, and the whole is very travel friendly. All in all, this technology provides one of the most accessible and scalable foil setups whilst keeping the DNA of its carbon counterpart.
The GRAVITY FCT comes with the IC6 300 stab. This stabilizer offers easy take-off and good directional stability for a secure feel which is perfect when riding. Built using the IC6 technology, it is both strong and durable.
Technology
---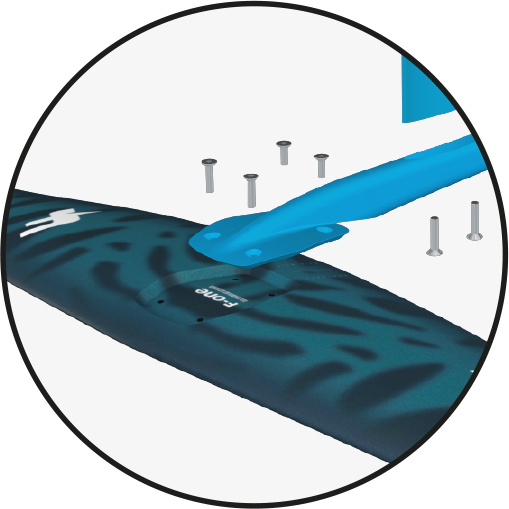 FUSION LINK
The Fusion Link enables the perfect connection between the fuselage and the front wing using a large solid plate at the front of the fuselage.
It is screwed to the front wing using 4 x M6 – 14 mm screws, resulting in a connection geometry that ensures a very solid and stiff assembly.
---

FOIL COMPRESSION TECHNOLOGY
The Foil Compression Technology is a F-ONE innovation offering impressive mechanical properties, making it particularly suited for foil subjected to high stressed and bending loads.
F-One FCT front wings are built in fiberglass around a high-density foam core. The wing is covered by thin and strong shield skin. This technology offers one of the most accessible foil setups on the market.
---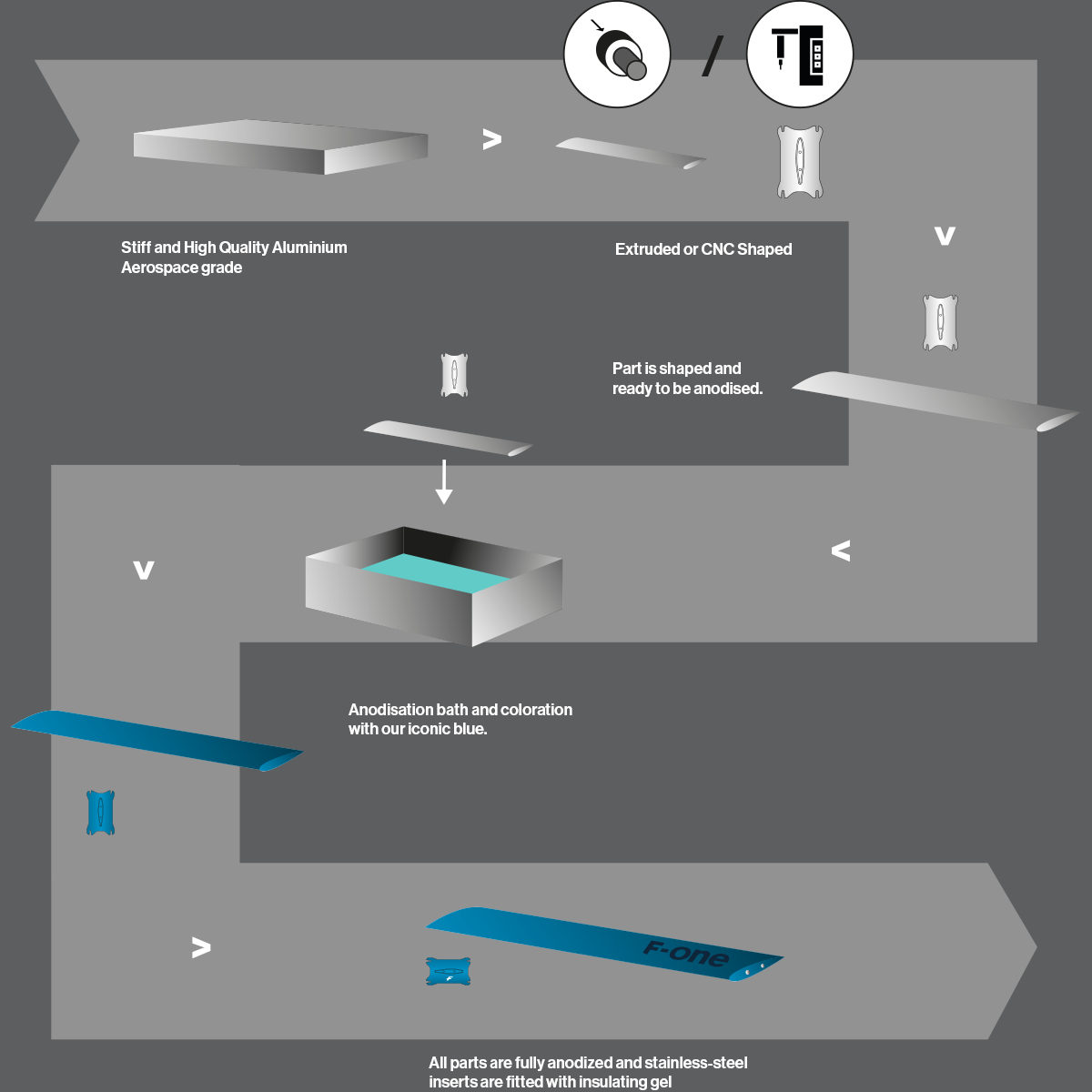 ALUMINIUM 6063 & 6063
This aluminum alloy boasts some very good mechanical properties and can be processed in many ways while also offering a natural resistance to corrosion.
Produced from an extrusion process, aluminum profiles make the most of this homogeneous material to provide perfect stiffness both in torsion and bending. All areas in contact with other metals or carbon parts are duly isolated against galvanic reactions.
Machining blocks of aluminum 6061 guarantees the maximum accuracy and preserves the mechanical properties of this higher grade of aluminum. All parts are fully anodized and stainless-steel inserts are fitted with insulating gel when fastening is required.
For instant answer - open the chat and ask your question. We're active 9.00-17.00 CET.
Is it afterhours? ​No problem - leave us a message and we'll respond early the next day.
​+48 513 020 570
For those who prefer phone calls - that's our number. You can give us a ring between 9.00-17.00 CET.