DUOTONE Windsurf boom Black Series
Sizes: 140-190 / 150-200 / 160-210 / 180-230
The current BLACK generation is manufactured in high-quality BONDED.TECHNOLOGY. In this process, tubes and front end are "welded" using special adhesive used in space travel. The iFRONT 2.0 front end, with flex and stiffness tailored to the needs of specific users, is installed for greater comfort and simple operation. The BLACK range includes two individual bend curves, whereas both short lengths have a modern PROGRESSIVE BENDCURVE and the reduced, comfortable tube diameter of 28 mm. All other lengths have a conventional bending line and a 30 mm tube diameter. For reliability and comfort, the DOUBLE PIN LOCK system helps to firmly fix the boom length in place while preventing the tubes from being twisted. Thanks to the different bending lines, the BLACK series fits with almost all sail types from all brands.
NEW: The entire BLACK line is equipped with the iTAIL WAVE fitting, whose patented Loop-Loop-Go 2.0 system for the first time guarantees absolutely perfect rope alignment.
Key features
HIGH END BOOM - YOUR ENTRY INTO THE WORLD OF DUOTONE HIGH END BOOMS
PREMIUM MATERIAL - T8 ALUMINIUM
BONDED TECHNOLOGY - THE BOOM ARMS AND THE FRONT-TUBE ARE "MELTED" TOGETHER USING AEROSPACE-STANDARD GLUE.
FRONT-END - IFRONT 2.0 - THE LIGHTEST MOULDED FRONT-END ON EARTH
TAIL-END - INSIDE TAIL WITH ITAIL WAVE FITTING
Technical features
---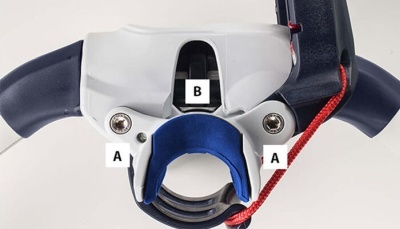 IFRONT 2.0 - THE LIGHTEST FRONT-END ON EARTH!
THE UNIQUE CONSTRUCTION OF THE iFRONT 2.0 COMBINES THE ADVANTAGES OF PREVIOUS CONCEPTS IN ONE FRONT-END:
A VERTICAL STIFFNESS:
Unlike other front-ends Duotone uses 50% longer stainless steel axle-bolts which are directly connected to the side walls. Thus we obtain a maximum vertical/torsion stiffness, which results in an extremely direct connection/transmission of boom to mast (= maximum performance).
B HORIZONTAL FLEXIBILITY:
The partially recessed center of the collar gives the iFRONT 2.0 a kind of hinge function, so that the collar fits to any mast diameter without any gap (= very smooth on the mast and extremely slip resistant). Duotone knows of no other front-end that fits so smoothly around the mast and thus effectively protects the mast.
PERFECT FIT GUARANTEED FOR BOTH SDM AND RDM MASTS
This exceptional fit is guaranteed on SDM as well as RDM masts as the iFRONT 2.0 can easily be adapted through the exchange of 2 different friction pads.
---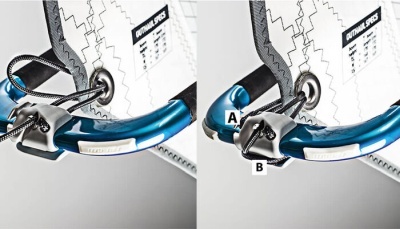 ITAIL WAVE FITTING
FRICTIONLESS ALIGNMENT PLUS EXCESS ROPE STORAGE!
The iTAIL.WAVE fitting offers 2 revolutionary details:
A The patented LOOP.LOOP.GO 2.0 function guarantees an ideal 100% frictionless alignment of the rope!
B Instead of tying the excess rope around the tube you just wrap it around the integrated "bridge" at the bottom side – the cleanest and fastest solution ever!
---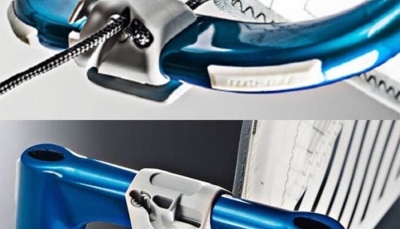 EXTERNAL TAIL FITTINGS
MINIMUM WEIGHT AND UNMATCHED FEATURES! Especially on carbon booms most brands integrate the fittings into the tail-end to generate a clean look. Duotone prefer external fittings to achieve 3 crucial advantages:
Much lower weight
Features and functions which no other brand can offer (see iTAIL.RACE.FITTING and iTAIL.WAVE.FITTING)
If need be super easy to exchange
For instant answer - open the chat and ask your question. We're active 9.00-17.00 CET.
Is it afterhours? ​No problem - leave us a message and we'll respond early the next day.
​+48 513 020 570
For those who prefer phone calls - that's our number. You can give us a ring between 9.00-17.00 CET.