DUOTONE Windsurf sail Now 2022
Sizes: 2.4 / 2.8 / 3.2 / 3.6 / 4.0 / 4.4
Discipline: Kids
A familiar concept – unique execution. Women, young rippers and smaller riders up to 160 cm in height often struggle with regular sails because of their stature, strength and limited lever forces. At the same time they are often more talented surfers than others, so they are right to demand a full-featured and easy-to-control rig. For these individuals Duotone have specifically developed the NOW – a highly lightweight, powerful and high-quality performance handling sail developed based on the current SUPER_HERO model yet adapted so it can be used by smaller/lighter riders with ease. While most sail brands use the same layouts and materials for grom and women sails as in their adult-sized sails for reasons of simplicity (e.g. the heavy X.PLY), Duotone do things differently. Thanks to the years of collaboration with all the big windsurfing schools (e.g. Duotone Pro Center, ION Club, FBC), they have taken advantage of their wealth of knowledge to design the NOW. The magnificently balanced shape, lightweight monofilm and sophisticated mix of materials in the iMODULAR DESIGN guarantee low weight and durability.
Key features
ADAPTED ELASTICITY - STRAIGHTER LUFF CURVE, 3-BATTEN-LAYOUT AND OUR CONVEX DACRON LUFF-PANEL ALL RESULT IN A SOFTER SAIL IDEAL FOR LIGHTER RIDERS
VTS TAIL OUTHAUL SPECS - EACH SAIL CARRIES INDIVIDUALLY DEFINED VISUAL INDICATIONS FOR THE CORRECT OUTHAUL EXTENSION (REQUIRES VTS TAIL BOOM).
SUPER LIGHTWEIGHT - THE 3-BATTEN-LAYOUT, SUPER-LIGHT BUMPER AND OUR WEIGHT OPTIMIZED PANEL-LAYOUT ALL RESULT IN A SUPER LIGHTWEIGHT IDEAL FOR SMALLER-FRAMED RIDERS
HOLLOW LOWER LEECH - HOLLOW LOWER LEECH (SCOOPED LEECH OUTLINE) STABILISES THE PROFILE RIGHT ABOVE THE BOOM AND PREVENTS LEECH FLUTTERING
VTS DOWNHAUL 2.0 - OPTIONAL QUICK RIGGING PATCH ALLOWS "TO THE SPOT" DOWNHAUL TRIMMING WITHOUT EVEN LOOKING TO THE TOP (PATENT PENDING)
XPLY PLUS - LAMINATE (100/150 MICRON) WITH THE LOWEST STRETCH AND BEST UV- AND PUNCTURE RESISTANCE ON THE MARKET
EPOXY BATTENS - UNBREAKABLE EPOXY BATTENS
IROCKET 2.0 - FACTORY CALIBRATED INDIVIDUAL BATTEN TENSIONS USING A TORQUE WRENCH
Technical features
---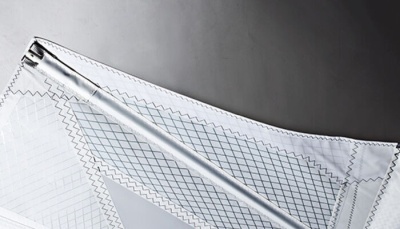 TT TOP
Improved sail control at higher winds. Designer Kai Hopf originally designed the TT TOP for the WARP. The reduced, concave shape improves tension conditions for a more effective, three-dimensional top twist. This means the top twists not only horizontally, but also vertically under strong winds. By completely neutralising gusts of wind, the rig is kept steady in the rider's hands, and thus works in a much larger range of winds.
---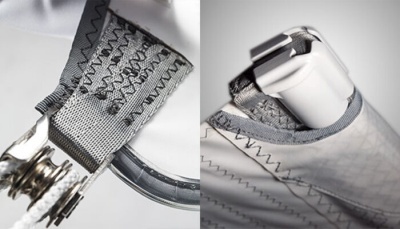 POLYESTER WEBBING ONLY
Eliminating stretch and loss of tension. If it's good enough for safety harnesses, it's good enough for windsurfers! Duotone is the only manufacturer to use only polyester webbing for the (vario) top and the tack roller. This advantage of this compared to conventional polypropylene is the negligible amount of stretch. As a result even brand new sails will retain full luff tension and will not need subsequent trimming.
---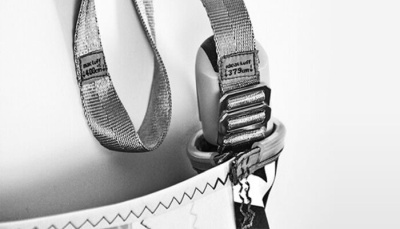 SET & GO VARIO-TOP
No more trial and error when trying to find the best vario top setting. Even when first rigging up, the correct length of the vario top is found straight away. Clear length indicators mark out the perfect setting with reference to the mast length used, eliminating any need for testing or re-adjustments.
---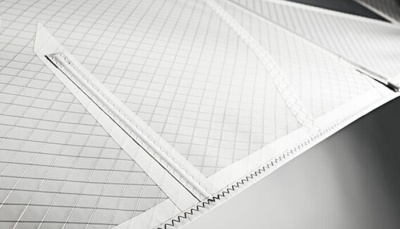 MINI BATTEN
These prevent unwanted leech flutter. Short and highly effective mini-battens which provide support for the areas between the battens and prevent undesirable flutter.
---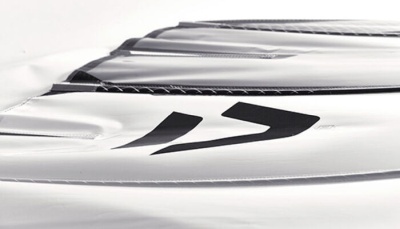 VTS VISUAL TRIM SYSTEM 2.0
Perfect trim and a huge range of use. You won't find a quicker or more accurate way of trimming your sail. Even beginners can trim the sail in a matter of seconds to 100% accuracy. All you need to do is pull the luff until the top of the loose leech reaches the "lower wind limit" or "upper wind limit". The VTS acts as a power boost, ensuring maximum performance and broader range of use.
---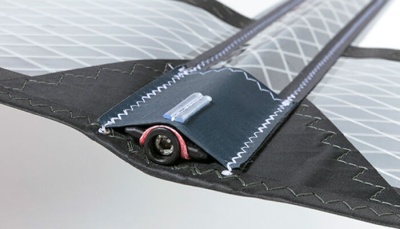 IROCKET 2.0
Super-lightweight and aerodynamic.
An inconspicuous detail with a massive impact. iROCKET 2.0 batten tensioners are super-lightweight, aerodynamic and highly stable, consisting of high-quality components such as a self-lubricating, salt-water-resistant brass nut with stainless-steel screw which can withstand all batten tensions. Furthermore, the iROCKET 2.0 is an essential component for a true windsurfing revolution.
100% correct batten tension, correctly adjusted when purchased and forever after. Duotone calibrates each individual batten at the factory according to development specifications. And they don't just leave it up to blind intuition either – all battens are adjusted to 100% accuracy using torque wrenches. Duotone also applies soluble screw adhesive to the locknuts so that the tension cannot be altered. This means that the batten tension remains absolutely correct and will never have to be adjusted again. The batten key included with the sail is therefore only needed for fine tuning or in the unlikely event of a batten breakage.
---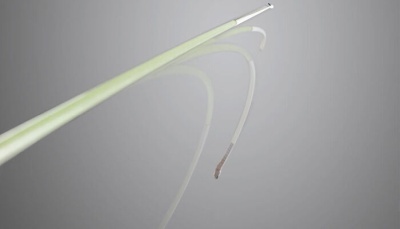 EPOXY BATTEN
Extremely stable, extremely break-resistant. Depending on the range of use, positioning in the sail and the necessary tension, the batten stress is enormous. In order to prevent breakages, designers only fit into all solid battens extremely durable epoxy laminates which really can withstand anything and can live up to DUOTONE's promises in terms of longevity.
---
X.PLY PLUS
What would you prefer? Maximum puncture resistance and UV weathering resistance with minimal stretch? Or (theoretically) improved ripstop properties?
Designers went with option A and developed the most durable laminate on the market. Because the factors of puncture resistance, durability and stretch evidently depend only on the thickness of the film used, Duotone uses only 150 or 100 micron thick films for their exclusive XPLY PLUS. In an extensive series of tests, designers have developed the ideal combination of necessary film thickness and number of threads. The X.PLY PLUS in particular, at 150 microns in thickness, boasts durability characteristics far in excess of previous laminates at minimal weight. This is also acknowledged by all the big surfing centres and rental equipment providers around the world, who place their trust in the unbeatable quality and longevity of Duotone sails.
---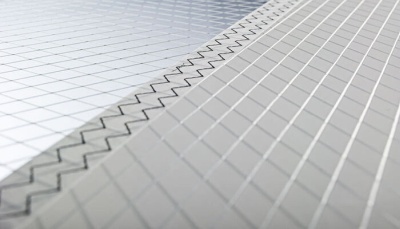 DOUBLE SEAM TECHNOLOGY
Double the durability with half as much stretch. DUOTONE manufactures products of unmatched quality which gives their sails a significantly longer lifetime. A key feature which helps to achieve this is the triple-stitch zig-zag seams. Unlike other products with their single-seam design, these are double-seam. They cover all exposed crash areas, which increases tear resistance and reduces bending-elongation by up to 50%, boosting profile stability and performance.
---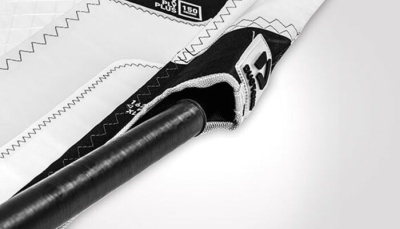 MAST SLEEVE OPENER
Frictionless insertion of the mast into the luff sleeve. An ingenious solution does away with the tedium of inserting the mast. The DUOTONE logo above the boom cutout gently opens the sleeve so that the mast can be threaded with one hand into the luff friction-free, without having to constantly make adjustments to the luff.
---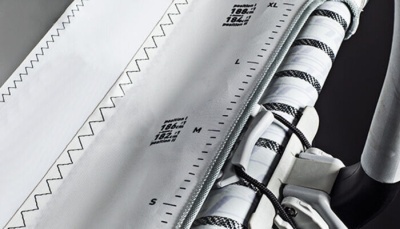 INDIVIDUAL BOOM LENGTH INDICATION
The correct boom length without the need for trial and error. Because the boom is attached to the mast at different heights depending on body size, and because this creates a different angle to the mast, the boom length will vary. Specific recommendations for the correct length are printed directly on the luff sleeve at the boom level.
---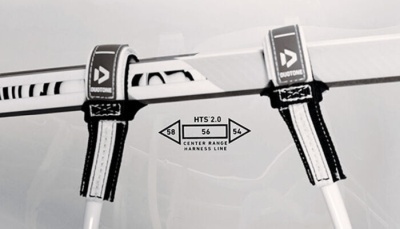 HTS 2.0 HARNESSLINE TRIM SYSTEM
Never position your harness lines incorrectly again. Do away with the tedium of adjusting to the optimum rope position, as well as the numb forearms and the endless fiddling around. The patented print on the sail shows exactly where the centre of the harness line has to be. All you need to do is position the two ends symmetrically at the left and right of the print.
---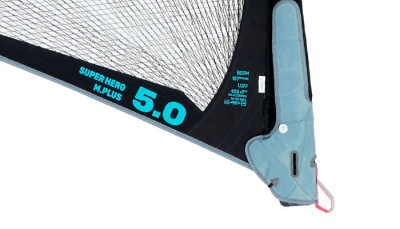 SUPER-LIGHT BUMPER
The lightest protector on the market, with integrated trim indicator.
---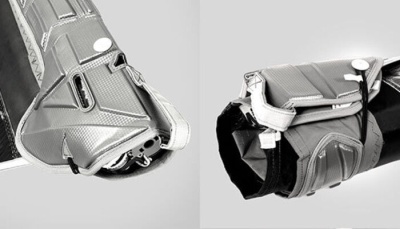 TWIN STRAP
This keeps the sail rolled up and holds the protector to the mast. A brilliantly simple fastening system which keeps the sail compact and closed after being rolled up and, when on the water, holds the mast protector closely to the mast.
---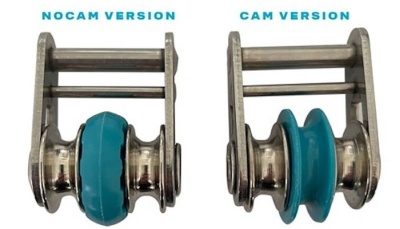 TACK ROLLER 2.0
During the development of the TACK ROLLER 2.0 Duotone's designers have measured the downhaul forces on all kind of sails. They've found out these interesting facts:
When downhauling a cambered slalom sail the forces necessary are nearly 3 times as high as when downhauling a no-cam (wave) sail (160 kg vs. 60kg)
With a 6:1 power-ratio you need to pull twice as much rope-length as with a 4:1 ratio. Therefore, with a 4:1 ratio you can downhaul the sail in one go, whereas with a 6:1 ratio you always need to retighten the rope.
Threading the rope through all rollers (without the rope getting crossed) takes at least 4 times as long as just looping the rope.
In theory with a 6:1 power-ratio the downhaul forces should only be half as high compared to a 4:1 ratio. In real life though the friction loss at each roller reduces the downhaul tension by only 15% at most (wave sail: 57 kg vs. 60 kg / slalom camber sail: 135 kg vs. 160 kg).
Therefore, they've designed 2 versions of the TACK ROLLER 2.0:
>> NOCAM Version used on all no-cam sails
The massive comfort and speed advantages of the 4:1 ratio (Loop-Loop-Go) outweigh the very slightly reduced downhaul forces of the 6:1 ratio.
This version features 2 nickel plated brass rollers at the outside plus a center spacer featuring a bigger diameter. This ensures that the rope loop automatically slips into the 2 outside rollers.
>> CAM Version used on all cambered sails The downhaul forces are so massive that even a small reduction helps. The 3rd slightly bigger roller allows to either use the 4:1 (Loop-Loop) or the 6:1 (Thread-Through) option.
---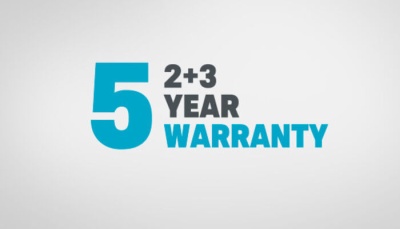 2+3 YEAR WARRANTY
Guaranteed quality – no other brand offers anything close to it.
Keeping weight to a minimum is a great idea. But if necessary reinforcements are reduced too much, the product's service life will automatically get shorter. DUOTONE has struck the perfect balance between weight and durability. To prove their dedication to ensuring durability and unique quality, almost all of their sails come with a 2+3 year warranty (excluding monofilm). To secure warranty claims fully, please remember to register at www.duotonesports.com straight after your purchase. Otherwise, only statutory warranty claims will be accepted. This is valid only for original owners.
For instant answer - open the chat and ask your question. We're active 9.00-17.00 CET.
Is it afterhours? ​No problem - leave us a message and we'll respond early the next day.
​+48 513 020 570
For those who prefer phone calls - that's our number. You can give us a ring between 9.00-17.00 CET.