FANATIC SUP Paddle Diamond 35 2-piece 6.75
ENTRY PERFORMANCE
Blade area: 555 CM²
Material: Carbon | Composite
Lenght: 170-220 cm
Perfectly matched to women's SUP boards from the Diamond line. Tailored to your level and style, this is the super effective yet most stylish SUP paddle. Constructed from a durable, compact 6.75 inch blade.
Made of carbon composite with a white ABS edge and a 35% Carbon shaft covered with graphics matching the Diamond line of boards. Available in an adjustable or 3-piece version.
FANATIC UNION JOINT SYSTEM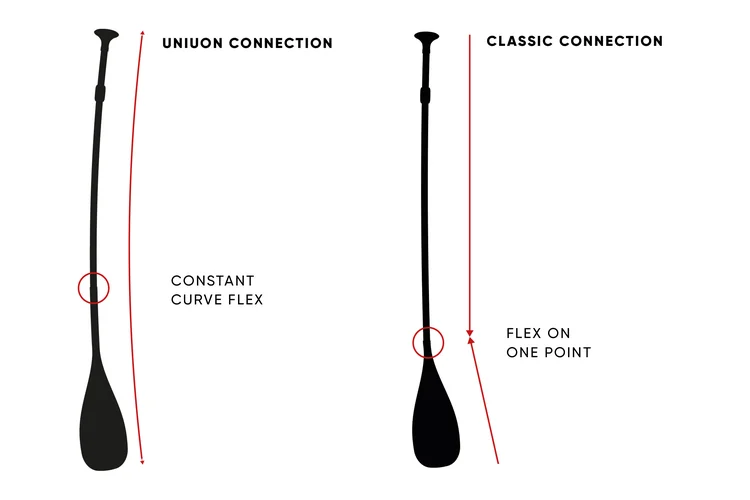 In the past, paddle flex located in two places: on the blade and on the shaft. Too stiff connection between the blade and the shaft resulted in point deflection of the paddle. Fanatic Union System has revolutionized constant flex. It now runs smoothly from the tip of the blade to the paddle handle. By moving the link upwards on the shaft, it tapers perfectly into the RDM, resulting in constant flex, unmatched bounce and rebound with each stroke. From the moment the blade immersed in the water, the energy converted into the drive of the board. The paddles with Union technology are available in four different versions, giving you a simple choice that fits your skills, needs and budget.
For instant answer - open the chat and ask your question. We're active 9.00-17.00 CET.
Is it afterhours? ​No problem - leave us a message and we'll respond early the next day.
​+48 513 020 570
For those who prefer phone calls - that's our number. You can give us a ring between 9.00-17.00 CET.