JP-Australia Windsurf board Fun Ride ES 2023
CLASSIC FUNBOARD DESIGN WITH CENTRE FIN
Size: 155
Discipline: Beginners / Freeride
This shape is designed to let newcomers feel their first planing sensation as early as possible in order get them hooked to the sport instantly!
It offers a huge range of use and is the ideal platform for the whole family and friends for their first steps on a windsurf board. On the other hand, its exciting planing potential is a real treat for experienced freeriders.
The length in combination with the parallel outline and the even volume distribution offer stability and outstanding qualities for passive early planing. Novices to planing will find it super easy to get going!
The board covers all kinds of windsurfing levels with its various foot strap plug options.
The Powerbox centre fin is one of the key features of this board: Working like a dagger board it helps to stay and go upwind for everybody who needs or wants it. The advantage is the low weight compared to a traditional dagger board case. When not needed the fin is replaced with a cover for smooth water flow and the experienced rider can enjoy the feel and low weight of a normal freeride design!
The deck along the centre is shaped rather flat for maximum stability when not planing. Once moving to a more outboard riding position the ergonomic rail design offers a comfortable stance for an exciting ride. The pronounced V shape, especially in the front enhances the comfort and provides a smoother ride.
Gybing is the other key experience to windsurfing. The forgiving character provided by the wide tail and soft tuck line will help you to master planing manoeuvres.
Comparison with other freeride boards:
The noticeable differences compared to the wider freeride boards of similar volume and range are its length and width: They provide a very different feel and a performance which benefits beginners. Non-planing, the long and narrow hull will stay on track. Sailing in a straight line is easier, while the noses of short, wide boards have a stronger tendency to turn into the wind. As a consequence, less experienced riders will find it more comfortable to get planing thanks to the board's length. Once planing, the narrow hull will feel less bouncy and not too powerful, yet still quick and easy to control.
The planing experience is the key to becoming addicted to the sport. Sporty for the freerider and easy-going for the whole family - this board is the door opener for future passionate windsurfers.
Key features
Designed to getting newcomers planing easily
Suits all kind of windsurfing levels
Multiple plug options for beginners and advanced windsurfers
Full EVA Deck with microdot structure for good grip and comfort
Flat shape in the centre for maximum stability
Powerbox center fin
Features
---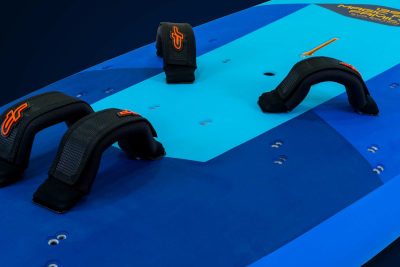 EVA DECK
Full EVA deck with microdot structure guarantees good grip and great comfort on the entire board.
---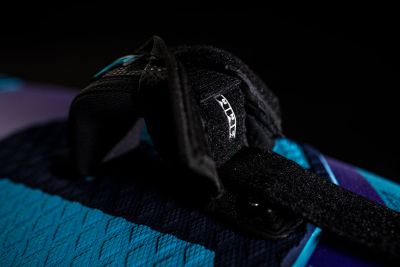 FOOTSTRAP SCALE
Your friends and family constantly take your board and change the size of your footstraps? No problem anymore! JP's Footstrap scale allows easy adjustment to the foot size.
---
Technology
Soft on the outside but very strong inside. Full EVA color coded deck and a hard bottom in combination with extra reinforcements in the nose, tail and standing area, make it strong, durable and comfortable to ride.
For instant answer - open the chat and ask your question. We're active 9.00-17.00 CET.
Is it afterhours? ​No problem - leave us a message and we'll respond early the next day.
​+48 513 020 570
For those who prefer phone calls - that's our number. You can give us a ring between 9.00-17.00 CET.