Credit Card
Payment cards are the most popular method of payment worldwide. We guarantee fast, easy and, most importantly, safe payment card transactions, such as Visa Classic, Visa Electron, MasterCard, Maestro.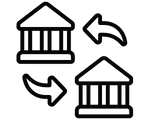 Bank transfer
Paying with bank transfer is quite easy.
If you choose Prepayment for your order you can make transfer to our EUR bank account at any time you want. However please mind those few points below:
After you have confirmed the order, you will be sent further information regarding the payment by mail.
Next, simply transfer the sum of your order to our bank account.
Please make sure the payment involves "no charge to the recipient".
Please indicate your name and your order number with the bank transfer (for example: Steve West 1234000). It is to ensure that the payment is recognized promptly.
Your order will continue processing as soon as the transfer reaches our account.
Please note that due to non-working days or other factors it might take a few days before we receive your transfer.

Sofort Banking
SOFORT Banking is safe, quick and easy direct money transfers integrated with our webshop, provided by the Payment Network AG company. When you choose this option, you would be able to commission direct money transfer to our account. We are one of more than 22.500 retailers who are now using this system.
You don't have to register in SOFORT Banking, don't have to add order data or feeding virtual account. The SOFORT Banking system works using online bank account, own login data and verification code. We will receive - after transaction conclusion - a real-time confirmation. This way your products will be immediately shipped, and you'll receive your order faster.
Your profits:
Faster delivery of ordered products
Safe, thoroughly checked by TÜV, payment system
Easy handling – all you need is an online bank account
For the moment we offer this payments in Austria, Belgium, Italy, Spain, The Netherlands, and Germany.

PayPal
PayPal is a renowned, easy, fast and safe worldwide online payment service. All you need is a free PayPal account, which is like an online bank account. Please check how PayPal works
​
If you would like to pay with PayPal, choose the payment option "PayPal" when ordering.
After confirming the order you will be promptly led through the payment process without having to enter any further information.
As soon as you have successfully completed this process, your order will continue to be processed.
If you have not completed the payment while creating your online order, you can do this any time afterwards. To do this, go to "My Account", then "Orders" and then click on "Not yet paid – Pay now".
Your order will be processed as soon as you have completed the payment.
Paying with PayPal is also possible by telephone or e-mail. You will then be sent a link through which you can carry out the payment via PayPal.
Want To Get More ?