Ocean Rodeo Drysuit - surf all year long!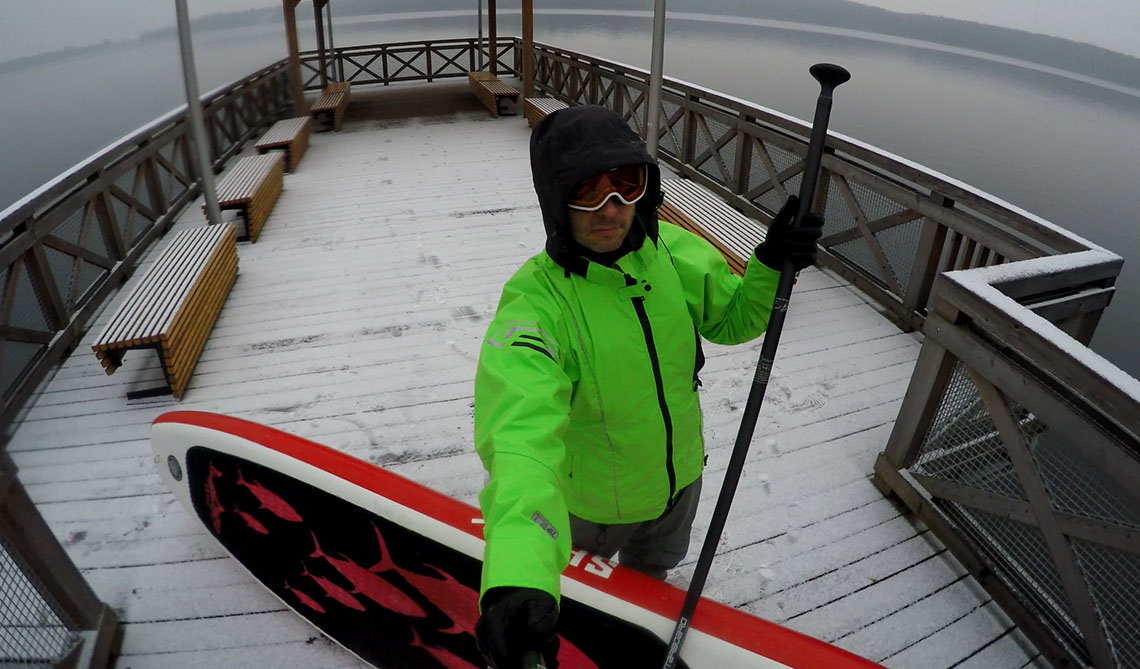 Not everyone lives on a remote tropical island with perfect sunny conditions all year long. Surfers from countries with short summer season also want to enjoy water, even when it's about to freeze! Over years, the technology of wetsuits manufacturing evolved and enabled to surf in colder waters for longer. But today, one can get something more than a wetsuit - let us acquaint you with Drysuits.
Drysuits for watersports evolved from clothing for professional marine industry. Fishermen in northern waters, tough regatta sailors - these were the groups in need to stay warm and dry in severe water, wind and temperature conditions. But for watersports enthusiasts the needs for comfort, freedom of movement and breathability are more specific and sophisticated. So nowadays, Drysuits dedicated for watersports are really high-tech, perfectly designed products (which means they are not cheap).
Let us introduce you to a collection of
Drysuits form Ocean Rodeo
- the leading brand in this field. You can purchase them in
EASY SURF Shop.
Ocean Rodeo
is a company from Vancouver Island, Canada. Far from a tropical paradise, the island is a perfect testing ground with extreme marine conditions. Storm to hurricane force wind warnings don't make the local news; the ocean temperature is cold, all year, and the remote, rocky, log strewn coastline is hammered relentlessly by harsh north Pacific wind and waves. That's why you can trust Ocean Rodeo products in any cold and harsh waters! The company developed it's own three layer material called "VENTOR", featuring a salt water resistant non-porous hydrophilic breathable membrane. Outside Abrasion Layer is a 200 Denier Nylon/Taslan material with DWR to repel water while allowing sweat to realese from within the suit. Middle, non-porous, hydrophilic polyurethane membrane is the part of the suit that keeps you dry. It allows sweat vapor out while not letting any water in. Works well also exposed for a long time for salt water enviroment. The inside Tricot mesh (Nylon 18 Denier Tricot Scrim) helps to protect the PU breathable film and keeps your body comfy inside the suit.
Ocean Rodeo Suits
come in
10 different sizes
, so you can choose the one that will perfectly fit you! There are 4 different models, and 3 of them:
HEAT
,
SOUL
and
IGNITE
are dedicated for watersports like: windsurfing, kitesurfing, SUP or surfing. All of them are state-of-the-art Canadian products with no quality compromises. Have a look at the chart below to see technical features and differences of Ocean Rodeo models: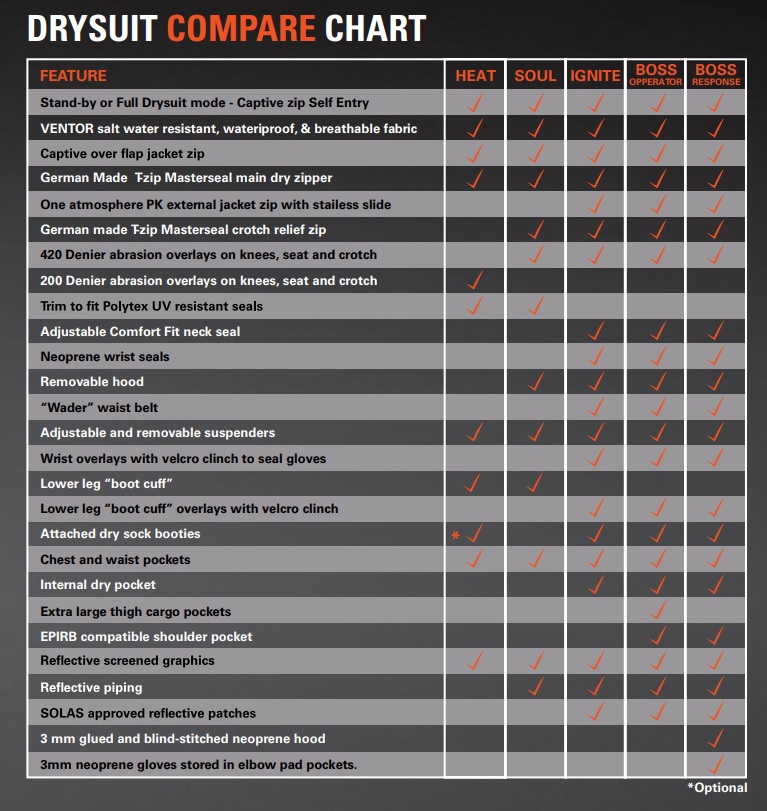 Drysuits don't require much maintenance, although there are some tips to treat them well and make them last long. The waterproof zipper is the most expensive single part of the suit, so you should never fold it. For travelling, the suit should be rolled. Of course, you cannot wash the suit in the washing machine. Maintanance details are well explained in user's manual.
Now, let the final user do the talking. Read a review of
Ocean Rodeo SOUL Drysuit
by one of our clients - Lukas:
"Ocean Rodeo SOUL changed my life for better! This is the summary of my thoughs. Let me make it more specyfic, so your life could change too :) I bought SOUL Drysuit in November 2017 and I can surely say, that it was the best purchase during last years (just after Bonaire tickets in 2016). From the day I bought it it turned out that the season for windsurfing and SUP has no end! Like endless summer! Daily use od SOUL is easy. During cold days, with temperatures 0-5 Celsius degrees I wear technical underwear and light sweat pants and top. If it's little warmer - only underwear will do. That gives me 100% thermal comfort. The only problem might be gloves (thick full gloves make windsurfing boom grip uncomfortable and very tiring). But I found a solution. I put thin silicone garden gloves and on top open fingers typical summer windsurfing gloves. That solution gives a firm grip without forearms getting swollen. For feet I propose neoprene socks and thick (7mm) neoprene boots. Plus hood on the head (I use a diving one). That's all combined allows to surf all year long! Before I tried thick wetsuits. But now I can say it was a big mistake. Heavy wetsuits limit movements, freedom and comfort. In a drysuit you feel very light, not limited for windsurfing, kitesurfing or SUP. Also, OR Drysuit breaths, so you don't get too sweaty. Regarding maintenence - it's best to read the producer's manual - all is explained very well. To dress up in the suit by myself, it takes about 3 minutes. You can put some baby powder on rims to slide hands and legs easier. And I also found an application for a Drysuit when the water freezes! As you know even frozen lake or bay can crack under you when skating or Iceboarding. A Drysuit could save your life in this case! The only thing, Ocean Rodeo could improve in next models is to make a dry outer pocket for smartphone or car keys. Summing up, Ocean Rodeo Drysuit is a perfect solution to surf 12 months a year! I would recommend anyone to purchase it, you will never regret! It's not cheap, so if you can't afford, borrow money from your grandma, uncle or bank! Enjoy winter surf!"