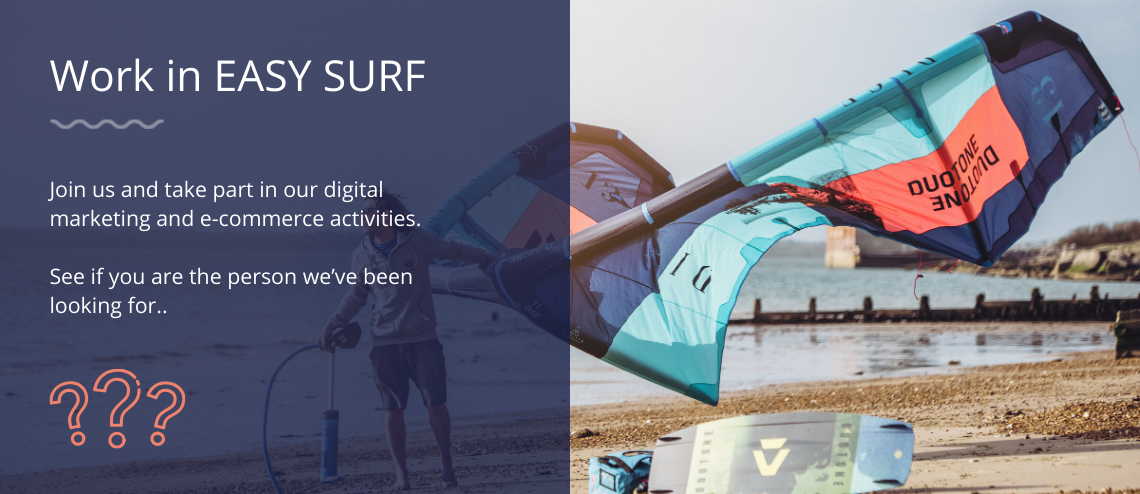 EASY SURF Shop is looking for people to work in its new premises in Poznan, Poland, near the city center at Św. Michał street.
Since our company has been growing dynamically, in particular due to exports, we need to expand our workforce. Depending on the needs, we are recruiting for permanent on-site and off-site positions, as well as for temporary positions.
Work in EASY SURF Shop means transparent rules, competitive rates and a broad package of benefits.
But that's not all… We are a company that was created with passion for water sports, in particular for Windsurfing, Kitesurfing and Stand Up Paddling, therefore, when you join us, you will see for yourself what it means to live "with the tide"...
Check out the positions we are currently recruiting for:
See if you are the person we've been looking for
How to apply?
If you feel that our offer is right for you, send us an application that would convince us to take you on board at: praca@easy-sports.pl stating clear reasons why you are the best person for this job and do not forget to attach your current CV. Please indicate the position you are applying for in a title of your mail.
We are looking forward to getting to know you!
PS. Remember to add the following data protection clause to let us know you better: "I agree to the processing of my personal data by EASY SURF Bartosz Grzesiek for the purposes of recruitment for the position I have applied for."
Why join the EASY SURF Shop?
EASY SURF Shop is a steady and experienced company that was established in Poznań in 2001. As we are reaching toward globalisation and export to other markets across the world, we are inclined to search for specialists in different areas of digital marketing, e-commerce and logistics and to run our business from backend.
In your daily work in EASY SURF Shop you can expect a very friendly, surfing atmosphere which will involve dynamic new projects you will participate in.
Direct contact and close cooperation among the whole EASY SURF team is the key to success and good atmosphere at work. We are committed to well-being of our employees by offering them safe and comfortable working conditions. We are striving to create long-term jobs and people who decide to join us for longer will be offered an opportunity to foster their professional development and raise their professional qualifications.
What we have prepared for you
FRIENDLY ATMOSPHERE AMONG WATER SPORTS ENTHUSIASTS
JOIN US AND TAKE PART IN OUR DIGITAL MARKETING AND E-COMMERCE PROJECTS
BENEFITS FOR WINDSURFING, KITESURFING AND STAND UP PADDLE ENTHUSIASTS
FLEXIBLE WORKING HOURS
WORK IN A MODERN OFFICE, NEAR THE CENTER OF POZNAN CITY
REMUNERATION RELEVANT TO SKILLS AND COMMITMENT
CONTRACT OF EMPLOYMENT OR B2B
FREE HOT DRINKS (COFFEE, TEA)
FINANCIAL CONTRIBIUTION TO TRAINING AND COURSES
Who makes up the EASY SURF Team?
We are a group of life enthusiasts and water sports fans who work at a place that is intrinsically linked to their interests. Not all of us are windsurfers or kitesurfers, but each of us lives "with the tide" - we continue to develop and draw energy from life, sport and professional activities.
At work, we focus on creativity, openness, commitment and mutual support.
We work according to our own rules while taking our own independent course. We have developed our own system of work, relationships with suppliers and contractors, and way of customer contact.
And above all, we are not an accidental group of people. EASY SURF is a definitely well-coordinated and professional team.
Any questions?
Should you have any questions, please contact us by phone.
Call us at +48 501 149 412 (from Monday to Friday from 9:00 a.m. - 6:00 p.m.) and learn more about work in EASY SURF Shop and what we do.
Want To Get More ?