Marlow Ropes is always looking to the future with innovation and development - the two adverts above show Marlow at the forefront of rope technology with polyester yacht ropes in 1957, and today with Grand Prix Series range. However, they never forget rich and proud heritage of the company.

By 2003, after a number of acquisitions, Marlow Ropes was a world leader in the design and manufacture of deep water tethers and mooring points for the oil industry as well as continuing to be the most globally recognised rope brand in the yachting industry. The Company was manufacturing on three sites in the UK and also owned a climbing rope company in Germany.

Today, Marlow Ropes has a brand new purpose built factory and warehouse and continues to manufacture quality British ropes on the same site as Thomas Burfield over 200 years ago. Times have changed however and today Marlow specialises in the design and manufacture of technically innovative rope products using the very latest hi-tech and exotic manmade fibres.

This producer latest additions

More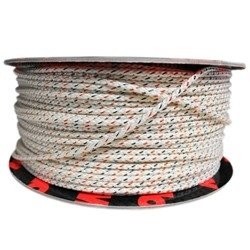 More
See all products from this producer
Want To Get More ?