RACEBOARD BLADE - PURE RACEBOARD COMPETITION
The Loftsails Raceboard Blade (9.5 & 8.5) has a history in raceboard World Championships, winning the World Championships twice under the the guide of Fernando Martinez and Alex Buchau. This specialist discipline involves providing power and lift for course-racing hulls (longboards with centerboards) with specific designs for upwind drive and extreme pointing in displacement mode from ultra-light wind to moderate breeze conditions – and full-planing downwind legs. Loftsails' Raceboard Blade is a full bodied, low-end power source with superb, streamlined, and efficient trim reactivity for the top end of the wind range-of-use. The 6-batten, 3 cam Loftsails Raceboard Blade 9.5 and 8.5 have no rivals in competitive Raceboard medium to strong wind designs. The Raceboard Blade 9.5 LW (Light Wind) is a specialized 5-batten, 3 cam design optimized for the bestpossible light to medium wind performance.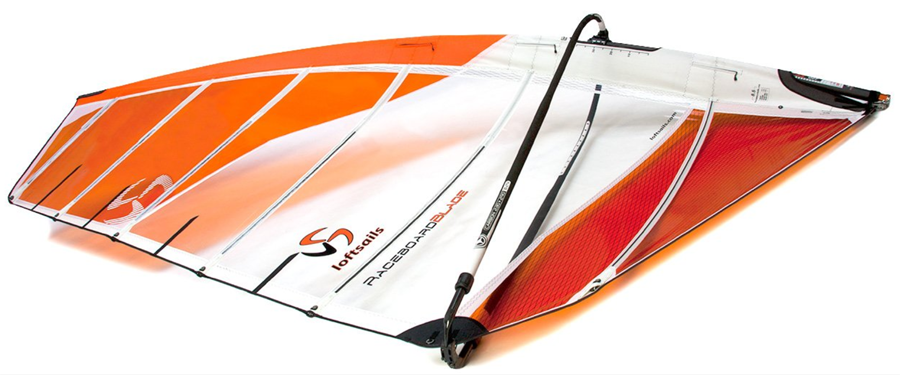 FEATURES & BENEFITS
Blade mast-pocket construction features mast panel and mast-pocket sides (3 layers) that are tensioned directly (all 3 layers under tack pulley webbings)– therefore downhaul tension is equalized between the mast panel and the mast pocket resulting in the Raceboard Blade's firm, clean, easy-rotating leading edge.
4 mil Dimension Polyant monofilm body panels – proven superior performance.
Tubed battens with varying carbon content according to performance.
Metallic cam interfaces– MCIs eliminate contact point degradation characteristic of cam designs without MCIs.
Exposed tack (no mast pad) and boomhole, facilitating adjustable downhaul assemblies.
Xply batten pockets that alternate sail sides... using similar material for the batten pocket as the body material minimizes the asymmetric character of applied batten pockets. Pockets made with laminates allow the batten to be centered. These features combine to maintain rotation symmetry. In contrast, same-side dacron pockets promote assymetrical rotation.
For instant answer - open the chat and ask your question. We're active 9.00-17.00 CET.
Is it afterhours? ​No problem - leave us a message and we'll respond early the next day.
​+48 513 020 570
For those who prefer phone calls - that's our number. You can give us a ring between 9.00-17.00 CET.