RACEBOARD BLADE - PURE RACEBOARD COMPETITION
The Loftsails Raceboard Blade (9.5 & 8.5) has a history in raceboard World Championships, winning the World Championships twice under the the guide of Fernando Martinez and Alex Buchau. This specialist discipline involves providing power and lift for course-racing hulls (longboards with centerboards) with specific designs for upwind drive and extreme pointing in displacement mode from ultra-light wind to moderate breeze conditions – and full-planing downwind legs. Loftsails' Raceboard Blade is a full bodied, low-end power source with superb, streamlined, and efficient trim reactivity for the top end of the wind range-of-use. The 6-batten, 3 cam Loftsails Raceboard Blade 9.5 and 8.5 have no rivals in competitive Raceboard medium to strong wind designs. The Raceboard Blade 9.5 LW (Light Wind) is a specialized 5-batten, 3 cam design optimized for the bestpossible light to medium wind performance.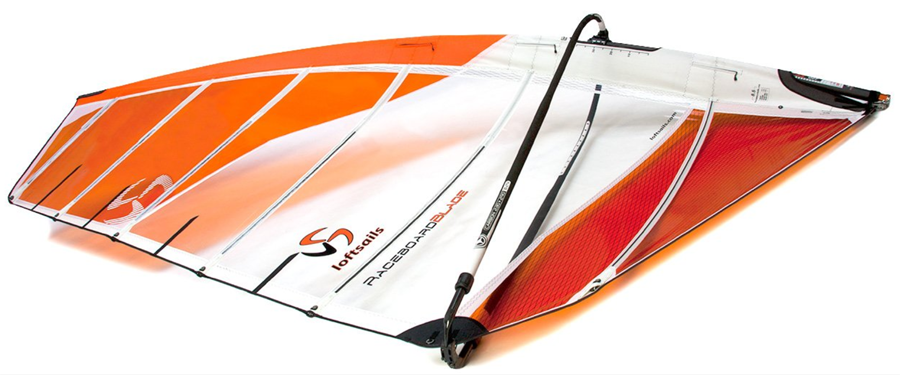 FEATURES & BENEFITS
Blade mast-pocket construction features mast panel and mast-pocket sides (3 layers) that are tensioned directly (all 3 layers under tack pulley webbings)– therefore downhaul tension is equalized between the mast panel and the mast pocket resulting in the Raceboard Blade's firm, clean, easy-rotating leading edge.
4 mil Dimension Polyant monofilm body panels – proven superior performance.
Tubed battens with varying carbon content according to performance.
Metallic cam interfaces– MCIs eliminate contact point degradation characteristic of cam designs without MCIs.
Exposed tack (no mast pad) and boomhole, facilitating adjustable downhaul assemblies.
Xply batten pockets that alternate sail sides... using similar material for the batten pocket as the body material minimizes the asymmetric character of applied batten pockets. Pockets made with laminates allow the batten to be centered. These features combine to maintain rotation symmetry. In contrast, same-side dacron pockets promote assymetrical rotation.
Loftsails designs and produces windsurfing sails and masts. The goal is to reduce the number of sail lines presented to the market while maximizing the wind range. The brand is dedicated to the development of original windsurfing sail designs with top quality - both in manufacture and performance. Sail lines include wave sails (Pure Lip and Wavescape), freestyle sails (Airscape), freeride sails (Oxygen), freerace sails (Switchblade), raceboard and racing sails (Racing Blade).
Loftsails company was founded in 1999 by long time sail designer (previously A.R.T., Neil Pryde) - Monty Spindler. Since the beginning all the development is taking place in Tarifa - the European wind capital. The Loftsails new 3-blade 'turbine' logo was inspired by Tarifa's wind mills – it was adopted in 2011.
One can say, Loftsails is windsurfing's best kept secret. Discover it yourself and you'll never want other sail.
"WIND VISION" - The Monty Spindler Story - watch now:
For instant answer - open the chat and ask your question. We're active 9.00-17.00 CET.
Is it afterhours? ​No problem - leave us a message and we'll respond early the next day.
​+48 513 020 570
For those who prefer phone calls - that's our number. You can give us a ring between 9.00-17.00 CET.