FUNSTAIR SPORT
WELDED AIR!
The big inflatable windsurf design: On this super stable platform, every newcomer to windsurfing will be able to learn all the basics and to improve quickly. The additional centre fin and the board length provide directional stability and help to go upwind. Its huge planing area can push the advanced rider onto a smooth plane easily. The carrying handle adds to the comfort.
It planes so easily considering that it's an inflatable. You'll be surprised how much fun it is to play and perform on this board. The fact that it is slightly softer than composite boards makes it a great gyber as it can give a bit in the turn, almost providing the feeling of a self-adapting rocker line.
Inflatables have clear advantages over hardboards: They are super comfortable and user friendly as they are easy to transport and store. The JP inflatable windsurf boards are specially developed and equipped for planing, featuring hard rails, 3D stringers and more. Additionally, they come in JP's superior welded technology.
Welded Technology: This heat welded connection was introduced last year and proved to be successful. It creates a very strong mechanical joint that literally fuses two parts into one and thus is superior to the standard gluing. This welding process of amalgamating two different layers into one makes the board safer, lighter and stiffer.
3D Stringer: The innovative solution connects the deck, rail and bottom into one strong and solid U-beam which makes the boards up to 30% stiffer. Furthermore, the 3D Stringer increased the glued overlap surface in the high stress standing area, improving the durability of the boards.
Hard Rails: The specially developed, super clean hard rails are covered by a fibre reinforced layer of PVC cloth and create a smooth and efficient water release. Thus, the boards plane freely, accelerate willingly and reach good speed with little drag – similar as you know it from freeride hardboards.
Triple Layer: They come with Pre-Laminated Triple Layer Composite Drop Stitch, Fiber Reinforced Stringers in deck and bottom and Welded Rails and will surprise you with their stiffness.
Powerbox: Due to the stiff and strong fixation in the board, the fully integrated Powerbox does not twist or waste any lift from the fin – no energy is lost.
Footstraps: The boards come with four easy-to-mount footstraps and offer strap positions for advanced riders and beginners.
Comfort: The soft hull is covered with a large, slip-proof EVA sheet for unmatched comfort and a safe stance. You also don't have to worry about mistakes anymore because you won't get hurt when falling on it.
Transport and Storage: Rolled up, the boards fit into a backpack – no more need for a car with roof rack for transport or a big garage for storage. In times when airlines are hesitant to accept windsurf equipment, the boards' backpack dimensions are a major advantage!
Volume: The FunstAir Sport's 200 litres are not the actual volume of the board but reflects the volumes of comparable (similar length and width) composite boards. Its real volume is ~240 litres.
Key features
Hard trailing edge at the tail (fibre reinforced)
Welded seam
3D stringer
Integrated Powerbox, center fin
Triple layer construction with reinforced stringers
Colour coded big EVA Deck with microdot structure for good grip and comfort
Classic white JP footstraps, fixation for inflatables
INCLUDED ACCESSORIES
Moulded freeride Powerbox fin
Centre fin
Pump
Repair set
User manual
Backpack
The FunstAIR Sport suits beginners to intermediates to first time planers and also is a great alternative for famililes.
LIGHT EDITION 3DS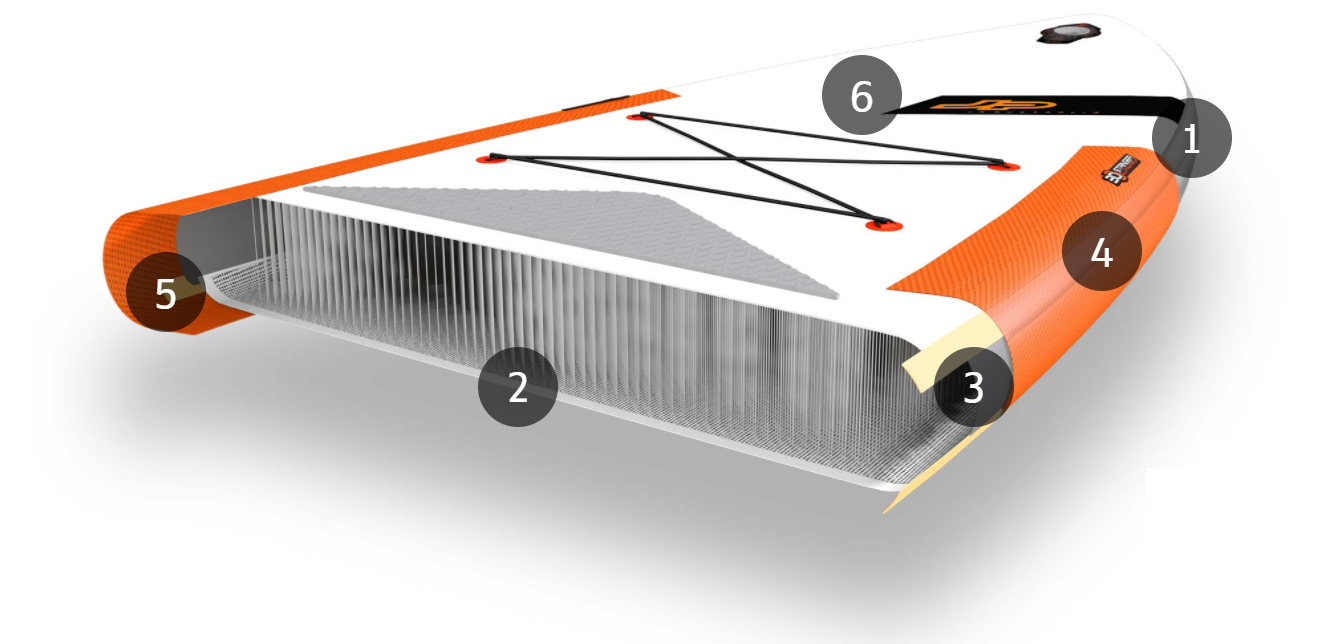 The pre-laminated double layer Light Edition construction is the ultimate in light weight. The machine-pre-laminated 2 layers of air tight PVC creates a durable shell of accurate thickness. This shell is then machine laminated directly onto the 500D Polyester Drop Stitch fabric. JP offers the LE 3DS boards both in 5" (for lighter riders) and 6" thickness.
Rail - Outside rail layer glued over the first layer for added stiffness and abrasion resistance.
Double Layer Drop Stitch - The first PVC layer makes sure your JP inflatable is 100% airtight, and the top PVC layer creates a laminated structure for the ultimate in lightweight performance.
Inner Rail - First rail layer that is welded to the DS fabric to ensure long-lasting mechanical bond.
3D Stringer - The 3D stringer is the most innovative solution to increase the stiffness of an inflatable board. It connects the deck, rail and bottom into one strong and solid U-beam. This has increased the stiffness of the boards up to 30%. Furthermore, the 3D Stringer increased the glued overlap surface in the high high-stress standing area, increasing the safety of the boards.
Welded Seam Technology
Pre-Lamination - Triple Layer Composite and Double Layer constructions both include the specially developed process of pre-lamination. This high tech process consists of machine-lamination of the multiple layers into a shell that has accurate thickness as well as superior abrasion and stretch properties. Compared to normal double layer boards designers have been able to remove the manual glue application from the process and with it the room for error, the excess weight of the glue and the additional health hazards for JP workers. The fiber-reinforced layers create super strong and durable boards with a minimal amount of stretch.
For instant answer - open the chat and ask your question. We're active 9.00-17.00 CET.
Is it afterhours? ​No problem - leave us a message and we'll respond early the next day.
​+48 513 020 570
For those who prefer phone calls - that's our number. You can give us a ring between 9.00-17.00 CET.